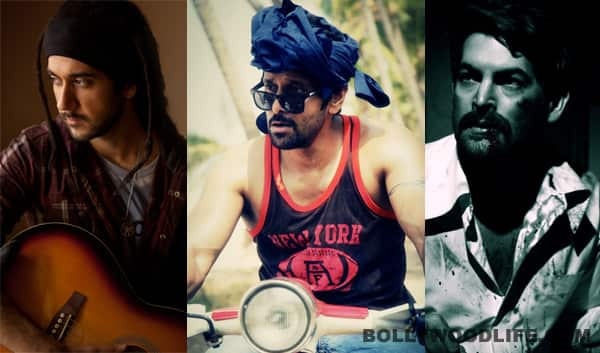 Bejoy Nambiar's tale of three people, three cities and three different time periods does not create any impact except Neil Nitin Mukesh's splendid performance
This week's second most awaited film (Vishwaroopam being the first), Bejoy Nambiar's David is here. The story follows three characters – all named David – in three different eras. The first story is about Neil Nitin Mukesh – the right hand man to Iqbal Ghani, a gangster in 1975 London. The second one shows the tale of Vinay Virmani – a struggling guitarist from a lower middle class family who is fighting to make it big in a bad world. Apart from finding a job, his other problem is his father's (Nasser) ideologies. This story is set in 1999, Mumbai. And last but not the least is the story of South superstar Chiyaan Vikram – an alcoholic. His episode is based in Goa, 2012.
If you thought that the plot sounds interesting, it's just that; it only sounds interesting! The movie gets nowhere in the end, while you just wait for it to end. Each character is introduced with much promise, but the narration is linear, which starts getting boring and distracts you after a while. Neil's portion, shot entirely in black and white, is the only one that manages to hold your attention. Neil lives to protect his boss, Ghani, but one fine day he comes across some dark secrets that make him want to kill him. How will Neil find out what is right and what is wrong? Is he being manipulated? Will he change course? Will his loyalty waver? Those are the answers that you wait for – for a good two hours and 45 minutes – but the climax is so clichéd and predictable that you can identify it from miles.
Parallel to this, you are shown Vinay going through the daily grind of trying to find a job. When he does land up with a job that promises to take him to the US, his father is attacked by the politician Malati Tai (an excellent Rohini Hattangadi) for allegedly converting people into Christianity. So Vinay stays back to protect his father and two sisters, and to find out the truth behind why his father's name is being maligned.
Vikram in the meanwhile (right from scene one to scene 100) is just seen drinking himself to death; guzzling alcohol as if there is no tomorrow. Stereotypes and clichés are aplenty here. Why does every Goan have to be an alcoholic? Why do they have to speak in that typical accent which only our Bollywood movies seem to be hanging on to while the Goans in reality have left it far behind? Can't there be anyone who works normally, speaks normally and lives normally? What on earth was the Southern superstar thinking when he decided to do a role where he has nothing to do except drink and blabber non-stop, talk to his dead father (Saurabh Shukla) and beat up people for no rhyme or reason? While this may look charming and endearing at first, it gets totally irritating soon after. This track progresses slower than a snail's pace. Vikram falls in love with Isha Sharvani, who ends up marrying his friend Peter. No surprises or prizes here.
Between Neil finding out the truth, Vinay battling for justice for his father and Vikram trying to win over the love of his life, what we have is a narrative that breaks whatever little is left of the tension, suspense and drama, as it keeps juggling between the various timezones. If you thought the characters will converge or cross paths, you are mistaken. Instead the plot just meanders and meets a slow end that's quite meaningless or confusing – whichever way you decide to look at it.
Of the lead actors, it's only Neil who saves the day. He has very few dialogues but his body language speaks volumes. His love interest Monica Dogra (Noor) looks awkward and her dialogue delivery is patchy. Isha (Roma) looks cute and that's about it. Of the other characters, Hattangadi with just one punchline stands out among the ensemble. Tabu plays her part convincingly and we can always trust her to leave a mark. Sarika looks splendid, and the song Dama dam mast kalandar is the highlight of the movie, beautifully rendered by Rekha Bhardwaj. The other number which not only keeps you hooked, but also lifts the mood of the film and your spirit is Ghum huye.
At almost three hours, Bejoy tries to serve a plate which is full, but just not delicious. We didn't savour this experience.
P.S:  The extra half star ONLY for Neil Nitin Mukesh.
Rating:
out of 5
Reviewed by Renuka Vembu
* Poor
** Average
*** Good
**** Very good
***** Excellent
Rating:
out of 5
Reviewed by Renuka Vembu
* Poor
** Average
*** Good
**** Very good
***** Excellent