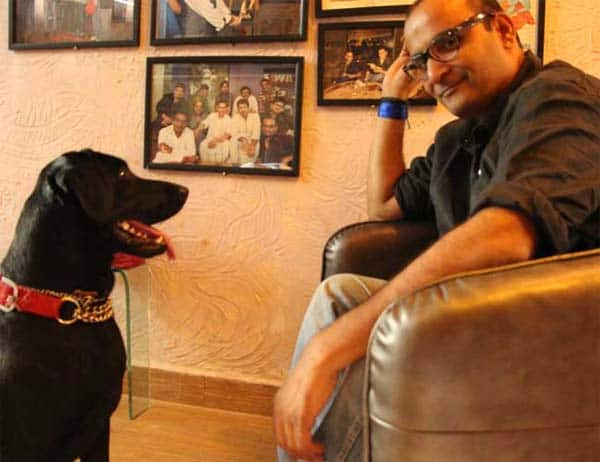 Sunil Bohra is producing a film about the don, Dawood. And the co-producer along with him is none other than his dog
Sunil Bohra is turning director for the first time with his film about Dawood Ibrahim. A film about the dreaded don is not something new in Bollywood. But there's something very different and unique about this film. Producer Sunil Bohra will be sharing credit with a dog for producing the film! Yes, you read right. Bohra's one-and-half-year old Labrador Zora is the co-producer of the film. He says, "I love my pet very much and I think I need her luck on my side. Zora has been very close to me. She is like my child and I thought it will be good to make her a co-producer along with me on all my future films."
Sunil Bohra also talks about his bond with Zora. He says, "In every relationship that we carve with each other as human beings there always exist expectations that we have of each other. Zora is the only one who does not expect anything from me. All she wants is love. She wants nothing else out of me." Zora was 30 days old when director Mudassar Aziz gifted her to Bohra, as Bohra had told him that he wants a pet.
Does Bohra's family have a problem with him sharing the credit with their dog instead of sharing it with them? He says, "They also consider her family. My fiance Prableen, who is an actor (last seen in Hansal Mehta's Shahid), treats Zora as her child. Why would she have a problem with it? In fact she has bought a jeep for Zora to go on long drives."
Bohra's directorial debut is not a serious film about Dawood Ibrahim but it is a comedy. The film will show the journey of a young Indian man, who is a huge fan of Dawood and travels to Pakistan to meet him. While Pawan Shankar of Kasamh Se fame has been roped in to play the Indian man, the filmmakers are still looking for an actor to play the role of Dawood.
Well, we'd like to wish Bohra and Zora good luck for the former's directorial debut and the latter's debut as a co-producer.