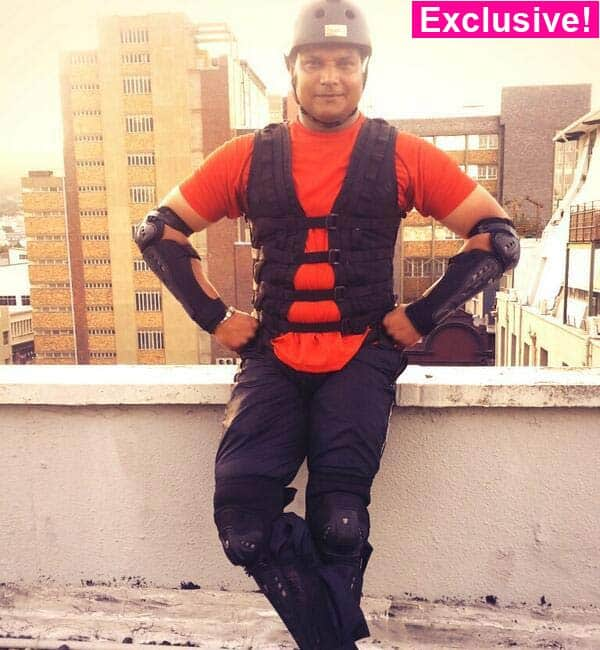 EXCLUSIVE: The CID actor who considers himself as the weakest contestant on the show, was touched when everyone got emotional on his elimination day
Dayanand Shetty aka Daya got eliminated last Saturday from Khatron Ke Khiladi 5. We caught up with the brawny and reserved dude to talk about his experience on the show. Daya talks about his toughest stunt, the friends he made, the strongest and weakest contestant on the show and more.
How was the experience of being on Khatron Ke Khiladi 5?
It was a wonderful experience. The 15-20 days I was in Cape Town were great. I was thrown out of place initially, but I managed to get comfortable with time. It is a reality show which is something very difficult for me 'coz I am a reserved person. All in all, it was a wonderful journey.
Do you think you have finally conquered all your fears?
My biggest fear is that I do not know how to swim but in spite of that, I did all the possible stunts that I was given in water. So in order to truly conquer my fear, I have to learn swimming which I haven't yet done due to time constraints.
What was the toughest stunt you had to do?
The toughest one was the first stunt I had to do, where I was on the float and the boat dragged me underwater. There was a helicopter and a rope hanging from it. I had to pull myself up from the water and climb the rope. Being in the water with my kind of body weight and then climbing up the rope was one hell of a task to do. The others were lighter and definitely more polished in rope activities like Salman Yusuf Khan, who is a dancer. Doing aerial acts is easy for him, unlike me. Then Geeta Tandon who barely weighs 40 kgs also found it quite easy. Besides the three of us, I do not think this would have been possible for anyone else.
Who is the toughest contestant on KKK 5?
I think everybody on the show had this feeling that Salman was the toughest competitor. His body weight, his comfort level in doing aerial acts and most stunts kind of made it obvious. He was prepared for every stunt, be it in the water or the air.
Who was the weakest on the show?
Weakest, I believe was Nikitin and me 'coz of our body weight and size. You can say a few of the girls also were not too strong. But in the team and when the competition is in front of you, no one was weak. More than fear factor, I think it's the luck factor that works for everyone. On a given day, if you luck favours you, then you can do the task.
How was it working with Rohit Shetty?
It was wonderful. All those who have ever hosted Khatron Ke Khiladi have been great, but Rohit went a step ahead. He got comfortable with the contestants and anchored the show very well. He encouraged everyone and pushed them to do better, I thought he was brilliant.
Who were you closest to among all the 17 contestants on KKK 5?
I am a very reserved person, so I barely mingled with anyone as such. In spite of that, I was close to Nikitin Dheer, Rajneesh Duggal and Ranvir Shorey. I did not interact much with the girl gang, but they were all nice to me.
Given the opportunity, would you go back to KKK again?
If I have no other work then I wouldn't mind going back to the show. But if I am busy with CID then that's my first priority.
How did your friends on CID react to seeing you do these dangerous stunts?
They were happy to see me doing the stunts. They were more than happy and appreciated whatever they saw.
What was your biggest achievement on the show?
On the day of the elimination, in spite of not bonding much with anyone, most of them got emotional. The South African stunt team, the direction team, the contestants, the crew members were all emotional. That was touching, I did not know how I affected their lives, but I believe that was a big achievement for me.
Were you seriously injured in any of the stunts?
Nothing major as such. You generally get hurt or bruised during the stunts or get shocks but nothing too major or worth mentioning.