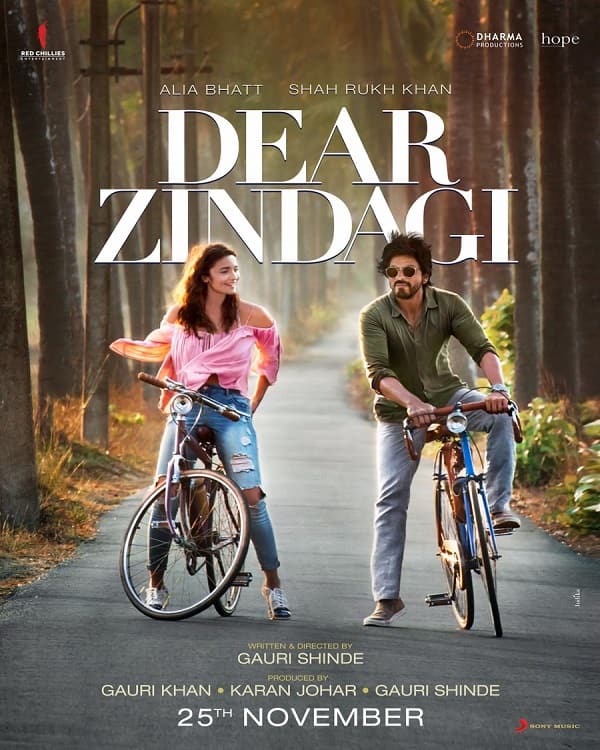 Shah Rukh Khan and Alia Bhatt are all set to steal your heart with the first poster of their upcoming film titled Dear Zindagi. Well, their pairing already created a huge sensation and fans are going gaga about them. Both Alia and SRK made sure we go crazy with the excitement. Just yesterday, Alia posted a video on questioning #Dear Zindagi, why do we have Monday blues and SRK had the perfect answer for her by giving an another day which instantly brought smile on our face.
And today on Tuesday Alia shared this video saying,"Dear Zindagi, you know what Tuesdays make me? I didn't mention earlier. Tuesdays make me impatient. So I'm really impatient right now. I mean, yeah, of course,Wednesday is tomorrow. Today's Tuesday so Tuesday's also a day. Tuesday also deserves something. Just give me something. Just give me something please." However SRK's reply made us drool. He answered her question by havin a shower, "Dear Zindagi, gale laga le. Oh oh oh, what are you doing? Alia you're so impatient! I told you to wait till Wednesday. Okay, here's a little something to get you by your Tuesday. Here's a poster of Dear Zindagi. Enjoy. And do wait till Wednesday for the real thing. Now go away. Shoo shoo!".  Well their quirky conversation surely made us eager to watch them together. And finally the wait is over, here they are. The first poster of Dear Zindagi is out and it promises a fun-filled ride.
Also read: The first trailer of Shah Rukh Khan and Alia Bhatt's Dear Zindagi will not have Ali Zafar, thanks to Ae Dil Hai Mushkil
The friendly, playful vibe between Shah Rukh and Alia is palpable as they pose with bicycles in the poster .SRK and Alia's unconventional casting and the evident camaraderie is certainly generating a lot of interest amongst the audience.  A story about life and its little joys, Dear Zindagi is about Kaira (Alia Bhatt) , a budding cinematographer in search of the perfect life. A chance encounter helps her gain new perspective, as she discovers that happiness is all about finding comfort in life's imperfections.  It's that interesting an actually a hatke film. Well BollywoodLifers tell us your thought on this vibrant first poster of Dear Zindagi.
Riteish Deshmukh shared his pic with Prisma effect

Riteish Deshmukh shared this cool pic using Prisma app.

Image credit: Instagram

Shah Rukh Khan clicks a selfie through Prisma app

When Shah Rukh Khan felt unable to resist the fever of Prisma!

Image credit: Instagram

Karisma Kapoor's picture through Prisma app

Karisma shares a stunning picture of herself through Prisma App.

Image credit: Instagram

Varun Dhawan's selfie through Prisma app

Bollywood star Varun is also captured with Prisma fever and shares few pics with same.

Image credit: Instagram

Shahid Kapoor's Prisma app picture

Even Shahid shared his picture edited through Prisma app.

Image credit: Instagram

Ranbir Kapoor's picture through Prisma app

Ranbir is rarely social through online media but Prisma app fascinated him as well.

Image credit: Instagram

Anushka Sharma's picture through Prisma app

Anushka looks even more stunning with this editing of app.

Image credit: Instagram

Alia Bhatt's picture through Prisma app

Alia is going crazy for the new Prisma app and shares most of her latest pics through that.

Image credit: Instagram

Jacqueline Fernandez's Prisma app picture

Jacqueline looks super cool in this picture with John and Varun and edited through Prisma app.

Image credit: Instagram

Arjun Kapoor's selfie through Prisma app

Arjun looks cool with this new app edited picture.

Image credit: Instagram

Shah Rukh Khan and Alia Bhatt's Prisma app picture

Shah Rukh has also become tech friendly and uses some of the apps quite nicely.

Image credit: Instagram