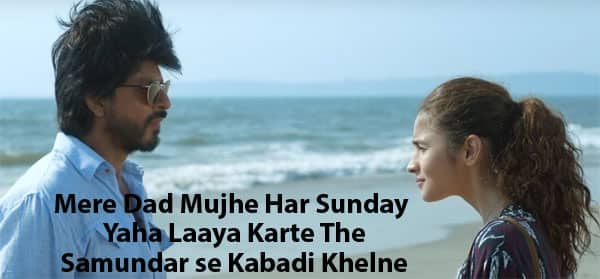 The much awaited teaser of Shah Rukh Khan and Alia Bhatt's Dear Zindagi is out and believe me it has stolen our hearts. The teaser is so vibrant and colourful that it will make you fall for them instantly.  Shah Rukh Khan, thank you for playing yourself. Alia, salute to you girl for choosing such kind a film. I mean after Udta Punjab, Dear Zindagi is just a perfect breather for you!
The teaser begins with Shah Rukh standing on the beach who looks super hot talking to Alia about his dad. He says,  " My dad used to bring me here every Sunday to play Kabaddi with the sea".  This dialogue bowled us over. Seriously, who thought of playing Kabaddi with the sea. I am not exaggerating, but I am sure you all will agree with me that only Shah Rukh could pull this off.  Like us even Alia was surprised how you can one play Kabaddi with the sea. Like generally, when we are on the beach, we tend to get emotional and go back to your good old days. But hey, SRK has given us the new way to look at the sea. Alia asks him how can you play Kabaddi with the sea. The  scene of him playing Kabaddi is  beyond perfection and we are left with no words to describe, one can only silently watch that beautiful scene.
Then comes the second dialogue from Alia, going by her character in the film and the Twitter chats with Shah Rukh, we know so far that she is impatient and restless for everything. Well today, every youth is impatient, but nobody is lucky as Alia to get a life coach like Shah (yes that his name in the film). Alia says Shah Rukh, " I just want to be free, mai azaad hona chahti hu ye sab se (free from all this)". And SRK being her life coach gives the perfect reply which has to be our life mantra, " I too want you to be free".
When getting the support from her coach on her thought, Alia gets excited and rides her cycle in full race and screams ' FREE'. Obviously she falls down and asks SRK to help her get up. Shah Rukh soon gives her his hand and within  second says. " Oh damn time's up, main bhi free hogaya, sorry". I love the ending part of the teaser coz it shows that you have to get up in life yourself without anyone's help and I am sure Alia will give it back to her Dear Zindagi.
Well, these dialogues of Shah Rukh and Alia are teaching us life mantras in the best possible way. And this trailer has actually come at the right time as the youth is totally lost. Do you agree guys? Watch the beautiful teaser right here and don't forget to share your comments in the box below..