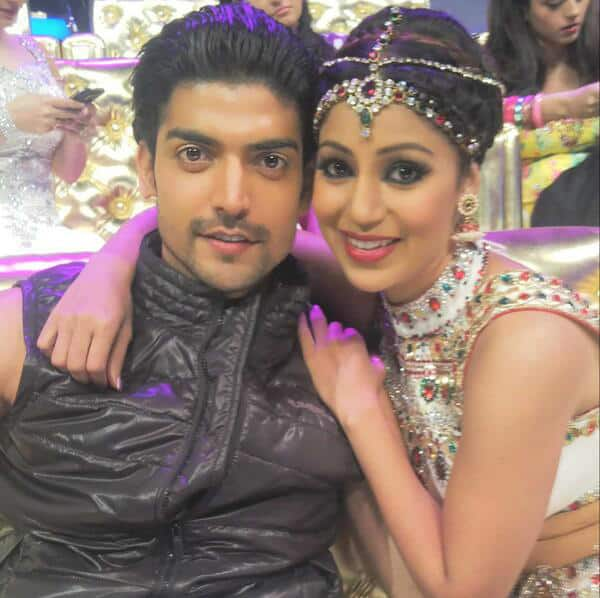 The gorgeous twosome had a dream – to compete on Nach Baliye. And now they are part of Season 6 of the dance reality show…
Gurmeet Choudhary and Debina Bonnerjee met during an audition. They bumped into each other again and again, almost as if it was their karma. And they began working together in the television version of Ramayan as Ram and Sita and they soon knew that they never wanted to be apart. Awwwww…. How romantic! The two, like any other jodi, admit that they often fight, but also giggle that making up is a lot of fun. They talk about their expectations from Nach Baliye 6, their choreographers and how smitten Debina is by her husband's body.
Who is your biggest competition?
Debina Bonnerjee: He is his own competition on Nach Baliye. He is a very good dancer and he has to compete with all that he has done before. He has to compete with the tremendous expectations people have of him. So it's not easy.
Have you guys fought while rehearsing for Nach Baliye 6?
Gurmeet Choudhary: It's natural to fight. When you put any husband and wife together on a show like this, fights happen.
Whose body do you like most, Debina – Gurmeet, Gautam Rode or Karan Wahi?
Debina: Gurmeet's, of course! I know the amount of effort that goes into making those small small packs on the body. I have seen him doing it. Plus, while the others only showed their body, Gurmeet did a belly dance as well. So my vote is for him.
What are your expectations of the show?
Gurmeet: I believe Debina is very excited, 'coz she has always wanted to do Nach Baliye. So she should be the one answering this, not me.
Debina: There is no expectation as such. We had thought that participating in Nach Baliye would be like a dream journey and we just hope that it does pan out like we dreamed.
Who are your choreographers in the show?
Gurmeet: Rishi and Prateek – they are very young, but are very good at what they do.
Debina: They are supremely good. Since this is just the beginning, they have not been really tough on us, but as time goes on I am sure they will become taskmasters. In fact, they are tough now too – until the steps are perfect, they won't leave us be. They keep making us practice and practice until I almost faint and drop on the floor. Yaah, that has happened. And if I say I can't do it any more, I am done, they say okay, you can then sit and watch. 'Coz they need perfection in every step.
What styles have you practiced so far?
Gurmeet: In the first episode we have done a mawali dance. And then later we will be doing the tango.
Do you have any prior experience in these forms?
Debina: To do the mawali dance you do not need any particular training. You look at people doing it on the road and you are done. As for the Latin American dance form – no, I have never done it before in my life. I always did think that I'd like to do it one day, whenever I saw people doing it. And the time has come, finally!
Has Gurmeet ever dropped you while practicing?
Gurmeet: No, nothing like that has happened yet.
Debina: No, he has not dropped me. Everyone says that Gurmeet will never drop Debina, so we can keep giving him tough lifts. Jaan jaaye, par Debina haath se na jaaya (lose your life but you cannot lose Debina)! I am lucky, he has always been very protective of me. That gives me a lot of confidence.
Gurmeet: Itni tareef… (So much praise)!