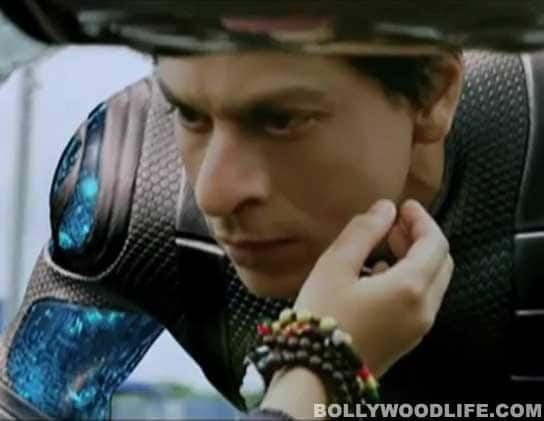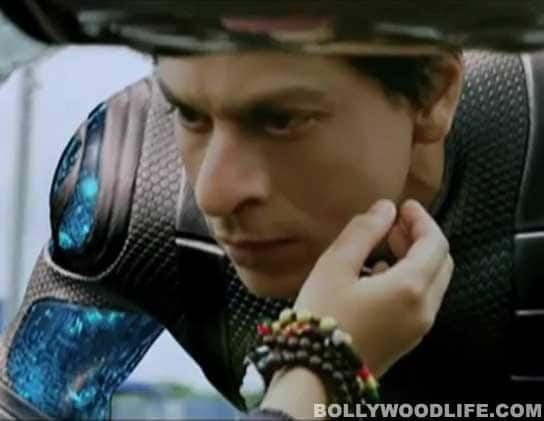 Seems that the King Khan has mastered the much elusive 'formula' for a superhit film with his superhero film, because it has something for everyone, which will ensure that nobody really hates it
In a star crazy nation, there is no point of reviewing or critically analysing a film that stars any of the three Khans: Shahrukh, Salman or Aamir. With RA.One, SRK proves that he has found the trick to not only getting the audience excited about watching his film, but also giving them something they like, so that they go home with smiles pasted on their faces and he, in turn, grins broadly all the way to the bank.
All these years, the G.One actor didn't manage to create much frenzy down South, but this time around he has given up on the Raj-Rahul avatar for the character of Shekhar Subramanium. He doesn't stop there; he also managed a double whammy by getting superstar Rajinikanth to do a cameo in his film, thus ensuring all Rajini fans in Tamil Nadu and Andhra Pradesh buy a ticket to Ra.One to watch their idol on screen. The fact that the film has been dubbed in Tamil and Telugu adds up too!
A vast majority of people who showed up during the first day screenings were unaware about the dynamics of a video game ambience. To win them over, RA.One not only had a lot of explanations, but also was balanced by providing entertaining stuff that they were comfortable with. Song and dance and mushy and comic sequences that usually don't go well with superhero flicks were added to keep the masses interested.
International hip-hop sensation Akon's two songs in the film make it clear that Shahrukh wasn't going to be satisfied with just the desi and NRI audiences. He wanted to generate interest among people not usually likely to queue up to buy tickets for a Bollywood film. Maybe he is pitching Bollywood to them as well, by including one among them as an integral part of his film. Millions of Akon fans (who have no direct Bollywood connect) would definitely want to see the film to which the singer has lent his voice, no? That's how smart SRK is!
The SFX, though not totally original or unique, will give Bollywood films a new-found respect in the West. If not better, the quality is at par with Hollywood and that in itself is quite a feat. This will not only raise the benchmark for other superhero films to be made in the future, but also gain them a wider audience. The Roshans, who are making the Krrish sequel, better be prepared for comparisons.
It is heard that the money spent on the film is somewhere around Rs 200cr and a lot of it is visible on screen when you watch the classic battle between good and evil. But, as bollywoodlife's RA.One review says, the film has everything but a soul, which even today makes Shekhar Kapoor's Anil Kapoor-starrer superhero film Mr India a far more complete cinema experience, especially in comparison to Shahrukh's money spinning monster of a movie.