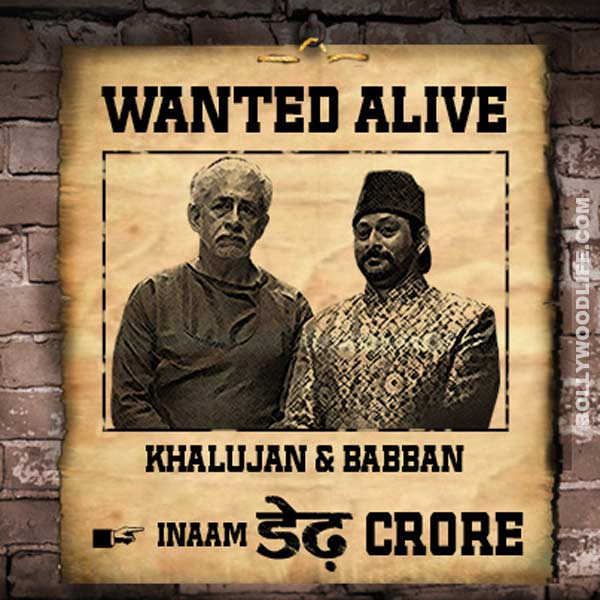 The makers of Ishqiya's sequel have come up with a personality depicting preview and we must say, it is hilarious to listen to the local dialect and watching the innuendo-laden antics
Arshad Warsi and Naseeruddin Shah have reprised their roles from Ishqiya in Dedh Ishqiya and the character promos make you go gaga over their frolics. Ever since the sequel was announced, people have been wondering as to what will the dynamic duo of Khalu and Babban be up to when they encounter the beautiful Begum of Mahmudabad-Begum Para (Madhuri Dixit), and Muniya (Huma Qureshi) her confidant.
The poetic journey of romance, drama and deception began when Babban and Khalu met with Krishna (Vidya Balan) and the journey continues with Begum Para and Muniya. The movie is directed by Abhishek Chaubey and produced by Raman Maroo and Vishal Bhardwaj. The characters have been given the classic desi touch and Khalu and Babban will win your hearts with their innuendo-laden antics.
Here's a sneak peak of what you will witness in the movie:
The Babban-ness of Arshad Warsi's character follows with – Pehle bhi dekha hai ishq mein bawla-andha hote hue, par sathiyate hue pehli baar dekh riya hoon
And a hilarious conversation in the middle of the night between the duo (Arshad and Nasseruddin)
Khalu: Kahan tha tu?
Babban: Apni izzat lutwa reya tha,
Khalu: Izzat toh lutti rehti hai
…and elegiac voyage of love, theatrics and con begins!
Enjoy the preview BollywoodLifers!
[flv image="http://st1.bollywoodlife.com/wp-content/uploads/2013/12/Naseer-Arshad.jpg"]http://st1.bollywoodlife.com/wp-content/uploads/2013/12/Character-Introduction-Naseer-Arshad.flv[/flv]