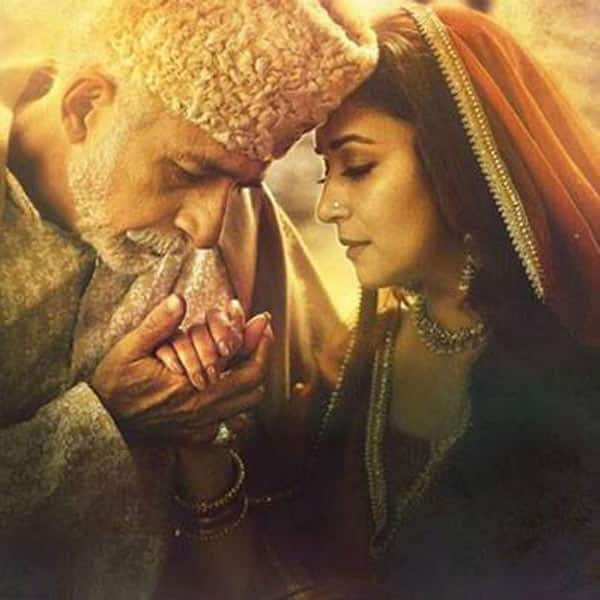 The Aaja Nachle heroine returns to 70mm after almost six years – and it was well worth the wait!
Madhuri Dixit-Nene's fans have waited a long time to see the screen goddess back in movies. Trust us, Vishal Bharadwaj's Dedh Ishqiya offers her the perfect platform for a comeback. The dhak-dhak gal finally announces with this one that she's here to stay. For those who thought that Vidya Balan would be missed after Ishqiya, this film's two heroines more than fill up the boombat babe's place.Dedh Ishqiya is primarily an Arshad Warsi and Naseeruddin Shah film. Babban and Khaalujaan are still smalltime thieves from Bhopal, as they were in the prequel, and their chori and bhagaam bhaag is what lands them in the most lively of soups. This time, the broth is a Nawaabi jung between shayars (poets), through which Babban's Khaalu is all set to woo the sought-after Begum Para (Madhuri Dixit) of Mahumadabad, the widow of a Nawab, a seductive beauty in her 40s. Babban's uncle has hidden his true identity and is busy reciting love poems to the Begum as a poet named Iftekhar; the Begum herself has deeply hidden secrets. Loverboy nephew Babban falls head over heels in love with Begum's closest associate Munira (Huma Qureshi). And amidst all the perfect shayaris in this perfectly budding love story of Begum and Khaalu enters the perfect villain Jaan Mohammad, who is as much in love with the Begum as he is with the idea of becoming the Nawab of Mahumadabad. What follows is a tale that has enough layers and twists as a nawabi paratha, all served up with beautiful music.
Arshad Warsi and Naseeruddin Shah as Babban and Khaalu are as adorable and entertaining as they were in Ishqiya. Shah shifts easily between playing the conniving thief and the archetypal romantic as he mouths 'umda' lines in Urdu. Arshad is the ultimate rowdy, crazy, slimy and very, very funny. The comic timing between the mama-bhanja pair is unmatched. They were the heroes of Ishqiya and now rule Dedh Ishqiya. Their chemistry is cracking, sizzling, an absolute delight to watch. They will make you laugh hysterically with their dialogue, body language and often just their mere presence.
Madhuri Dixit-Nene is ethereal and absolutely ageless. She is grace and beauty personified as Begum Para. When you watch her onscreen, it's almost like you are savouring a glass of good wine that tastes great and lingers delightfully on your palate. Huma Qureshi holds her own amidst a set of great actors – Muniya is no sidekick, but the character who will surprise you, shock you and keep you guessing.
Abhishek Chaubey sticks to Ishqiya's premise, but creates a grander plot this time. He ensures that every character in the film is memorable and that Dedh Ishqiya itself is not a mere sequel for Ishqiya. The story, plot, look, feel, characters and music are interwoven intricately and served up as an appetising dish.
The music, like in the prequel, is beautifully and thoughtfully composed, with Rekha Bhardwaj's rustic voice rendering some enjoyable tracks. And then there is Yo Yo Honey Singh, who after Chennai Express' Lung
i dance comes up with another funky song in Horn ok please.
All in all Dedh Ishqiya is a must watch for movie lovers. Unlike most of today's commercial hit films, it is not a 'no brainer'. Instead, take your thinking minds on an exciting joyride that impels you to enjoy an aesthetic and exciting movie watching experience. We give this film a near 'Perrrrfect' tag, in true Madhuri style!
Rating:
out of 5
Reviewed by Rashma Shetty Bali
* Poor
** Average
*** Good
**** Very good
***** Excellent