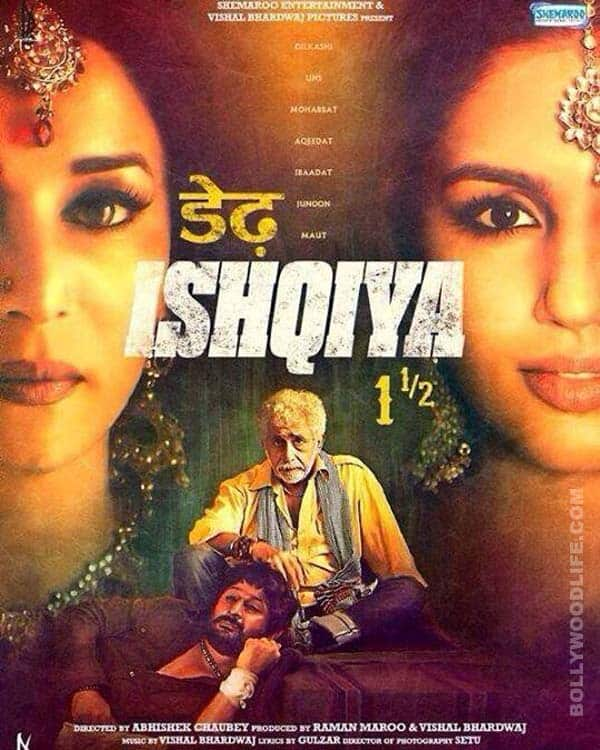 Music: Vishal Bhardwaj
Lyrics: Gulzar
Singers: Rahat Fateh Ali Khan, Rekha Bhardwaj, Pt Birju Maharaj, Master Saleem, Shahid Mausam Maliya, Jazim Sharma, Yo Yo Honey Singh and Sukhwinder Singh
Dedh Ishqiya, directed by Abhishek Chaubey, is a sequel to the 2010 film Ishqiya. The first instalment of the film had fabulous music by Vishal Bhardwaj, with lyrics by Gulzar. And we wanted more. To fulfil our wishes, Dedh Ishqiya has dedh-times the number of songs than before. Thus expectations of the music have also risen dedh-times.
Dil ka mijaaz ishqiya, the title track, gives you the mellow feeling of floating on a sea of tranquillity. Sung by Rahat Fateh Ali Khan, this one touches smoothly on every note of serenity and never deviates or falters through the entire rendition. The lyrics are also captivating and take you back to Dil toh baccha hai ji. The seamless poetry coupled with the soulful voice have a ripple effect and take you back in time. Romance is in the air and you want to fall in love all over again once you listen to this. Gali se kabhi nikal jaaye to dil bhatak jaata hai, arre baccha hai aakhir behak jata hai – the song takes you back in time to when you had a heart like a youngster in love.
Hamari atariya is made lively by not just the singer, composer and lyricist, but also the danseuse. Rekha Bhardwaj's song was ideally made for Ishqiya, but could not be used then. So the makers insisted that the director use the new story in such a way that it incorporated this song. The ingenious Hamari atariya pe is as much a Madhuri Dixit Nene number as it is Rekha Bhardwaj's. The way the star dances kathak makes the fusion of rock guitar with folklore come stunningly alive. The composition is laden with traditional elements and the rock guitar heightens your spirits even more. Along with all this comes Gulzar's wizardry of words as he plays beautifully with the lyrics. Hamari atariya pe aaja re sanwariya, dekha dekhi tanik hoi jaaye – he spins his lauded imagery with subtle and casual expertise.
Zabaan jale hai is the best in the album in terms of lyrics by Gulzar. The song has a haunting effect that captivates you. This lovely composition is brought to life by the wonderful words that have been excellently mixed with gentle guitar notes. The other high point of the song is Rahat Fateh Ali Khan's apt accompaniment. The lyrics are in an authentic rural North Indian dialect – Hamari haalat pe kitta rove hai, aasmaan bhi tu dekh leejo.
Jagaave saari raina is an out an out Rekha Bhardwaj and Pt Birju Maharaj song. The music gradually blooms with rich orchestration and Pt Birju Maharaj's alaaps, creating the perfect raagdaari effect. Along with that are Gulzar's words, which once again teach an elegant lesson on how to amalgamate literary verse and folk poetry.
Kya hoga, a qawwali song sung by Master Saleem, Shahid Mausam Maliya and Jazim Sharma is a bit out of the norm. There have been various qawwalis in B-Town, but this one is different. Gulzar's powerful words bring the song alive when he says Dil to diya hai, jaan bhi de de, aur nazrana kya hoga, lau ko chhoo ke laut aaya jo, woh parwana kya hoga.
Horn Ok please, is one track that's way different from the others on the album. It is fun, with lot of masti. Sung by Yo Yo Honey Singh and Sukhwinder Singh, it was added last to the album. There is a slight difference from previous Honey Singh songs; this one was not composed by the rapper himself, but by Vishal Bhardwaj, which gives it a hatke mood. The lyrics are amusing and Gulzar's wit reaches optimal levels when he refers to Mohammed Rafi and Lata Mangeshkar and his own song Tere bina zindagi se koi shikwa to nahin.
Verdict: By bringing in local flavour and not opting for popular tastes and funky sounds, Vishal Bhardwaj has done a great job of creating a potential hit album. He has done justice to the theme of the movie and made music that suits it perfectly. The lyrics by Gulzar are the icing on this cake. The album is loaded with classical elements – that is quite unusual for a composer in the present day. If you are a lover of niche music, you should definitely listen to this one!

Rating:
out of 5
Reviewed by Prateek Sur
* Poor
** Average
*** Good
**** Very good
***** Excellent