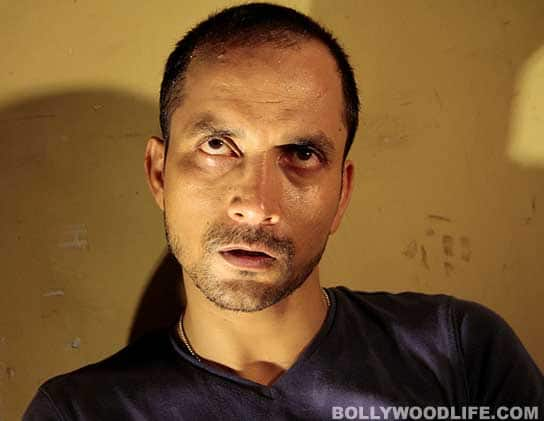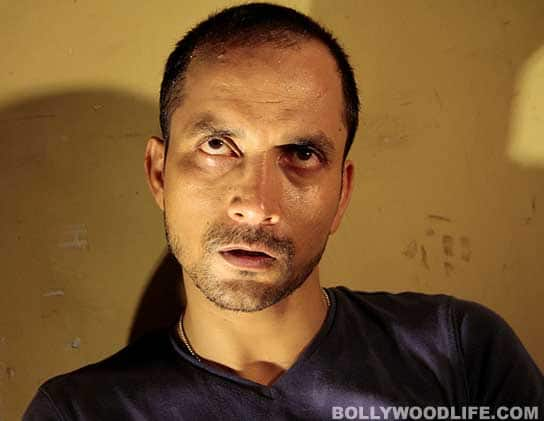 From a face in the crowd to the face on the film poster, Deepak Dobriyal looks back at his journey in B-town
He was last seen in an insanely comic role of Pappiji in Tanu Weds Manu and soon he will be seen as a cold blooded murderer in Ramgopal Varma's Not A Love Story. He speaks to us about his transformation- from a struggler who said 'yes' to everything that came his way to B-town's most sought after character-actor
When did the acting bug bite you?
When I was in school I was a nervous wreck. We had this routine where one student would call out roll numbers while the 1,000 odd students would raise their hands when their number was announced. One day the guy who used to call out the numbers didn't show up, and my wicked friends forced me into it. I made a fool of myself the first time, but once I got into the groove, I reveled in the idea of holding attention of the huge crowd on my own. I used to announce the roll numbers with variations too. That is when the dormant actor within me tasted blood.
The initial struggle must have been very tough…

Well, at hindsight it was fun but the three years till I shot to fame with Omkara were taxing at so many levels. That was the time when I used to say 'yes' to everything. Side roles, non-speaking parts, crowd fillers and the works…. I used to feel so intimidated that my self-worth took a serious plunge. Despite doing great theatre in Delhi, in films I was playing the role of a servant and other sundry characters. It was humiliating. At one point I decided to not do TV ever again in my life. Unlike other strugglers, I was very open about letting others know about auditions that were happening. It had come to a point when the casting agents would tell me not to come with a baraat (crowd) of fellow strugglers. We had great fun those days. Even today, if I am not doing a role for my own reason, I ensure that I recommend at least four-five strugglers who may not have my type of 'poster value' but are more talented than me. From saying 'yes' to everything to saying 'no' to 70 roles in 2010 alone, it has been a rewarding journey and I hope the dream run continues.
How does it feel to have roles written for you?
It is definitely a great feeling, but it is also very tough to turn down the offers. The role that I did in Tanu Weds Manu was written with me in mind. I was very sure that I do not want to do a small part in a 'big fat Indian wedding' flick at any cost. I did everything within my means to turn down this film….I quoted a bizarre fee, date problems, etc. but it just didn't work. The writers pursued me till the time I gave up and said yes and it is good to hear appreciation coming for my role in this film.
This industry is more about making contacts and behaving like an elite or a snob. I am a down-to-earth person and not at all manipulative. I was filling in for someone in Gulaal and some people in the unit were thinking that I played dirty to get that role. I could feel the negative vibes. The film got shelved and Omkara got made and released, and I was a known face and in a better situation to deal with the misunderstandings. I cleared the air and even today I get appreciation for the role of Bhati that I played in Gulaal.
You have worked with two important directors of our time, Anurag Kashyap and Vishal Bhardwaj. How are they different as filmmakers?
The thing that is basically different in these two filmmakers is that while Vishal's films are driven by characters, Anurag's films revolve around the ideas. While Vishal is particular about the written word, it is totally different when it comes to Anurag who is all for spontaneity. Vishal's world-view is not as vast as Anurag's, but both are open to go that extra mile for good cinema. Having said that, I would also like to add that both Vishal and Anurag are kids at heart…. If some idea excites them, their brains take a backseat. Their body language changes the moment some creative genius strikes them and they behave almost like children. Another trait that is different in these directors is that if Vishal is angry, it stays with him, but Anurag cools off faster and makes up.
What would you say have been the highlights of your career so far?
In Vishal's Maqbool, I was playing a small role but veteran actor Pankaj Kapoor noticed my part and told Vishal that "this guy is not just another gun-toting extra, he is an actor and I want to meet him". When Vishal told me this, I couldn't believe it…I asked him repeatedly if it was the truth and he said yes, and that was when my shattered self-esteem came together and I became the actor that I was in my Delhi theatre days, full of confidence and hope.
Another moment was at the premiere of Delhi-6. At the end of the screening, director Rakeysh Omprakash Mehra was introducing his actors and the crowd was going berserk, wolf-whistles et al but when my name was announced and I came up onto the stage, the audience blanked out. They couldn't place me and the fact that I was wearing a tuxedo and glares didn't help either. That is when Amitabh Bachchan came to my rescue. He walked up from his seat, came up to the stage, held me by my shoulders and said that I did a terrific job in the film. That was a magical moment for me and then the audience joined in too!