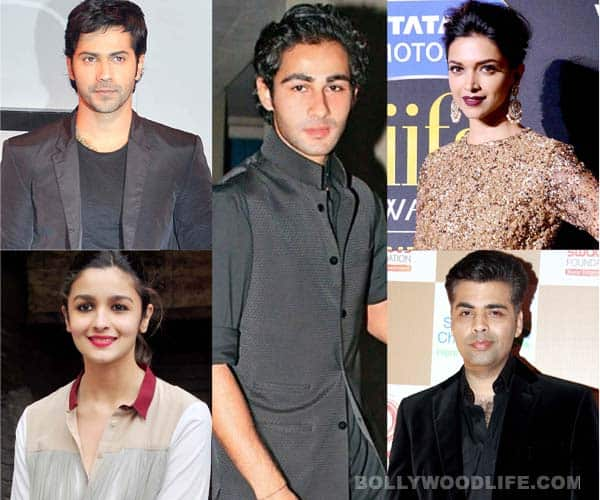 The soon to be launched actors seem to be getting the much needed support from the industrywallahs
There was once a time in Bollywood when contemporaries of the same stature never really got along well or hooted for each other. However, times have changed and our young B-town celebs are not only welcoming new actors to the industry but are also cheering for them.
Armaan Jain and Deeksha Seth who are making their Bollywood debut with Lekar Hum Deewana Dil have received a warm welcome from their colleagues from the industry like Karan Johar, Deepika Padukone, Alia Bhatt, Varun Dhawan, Neil Nitin Mukesh, Abhishek Bachchan among others.
The young brigade of Bollywood took to Twitter to support the soon to be launched stars. Take a look at what they had to say:
Karan Johar – "#lekarhumdeewanadil looks like an extremely charming and new age love story..with a STAR in the waiting…#ArmaanJain"
Deepika Padukone – "From the makers of 2 very special films Love Aaj Kal & Cocktail… Lekar Hum Deewana Dil http://bit.ly/LHDD-Trailer. Enjoy!"
Neil Nitin Mukesh – "Go Armaan!!! " Lekar Hum Deewana Dil" https://m.youtube.com/watch?v=ZV2knGdIJNI Both Armaan and Deeksha have such a cool vibe to them with super body language for their first film.#LekarHumDeewanaDil This 1 is THE ONE. (sic)."
Abhsihek Bachchan – "Watch people!! http://m.youtube.com/watch?v=ZV2knGdIJNI … #lekarhumdeewanadil all the best Armaan. Looks like great fun."
Varun Dhawan – "Presenting the shy charming kamina armaan Jain welcome to the movies #LHDDtrailer http://bit.ly/LHDD-Trailer."
Alia Bhatt – "Watch Watch watch !!! Armaan Jain wohooooo https://m.youtube.com/watch?v=ZV2knGdIJNI …"