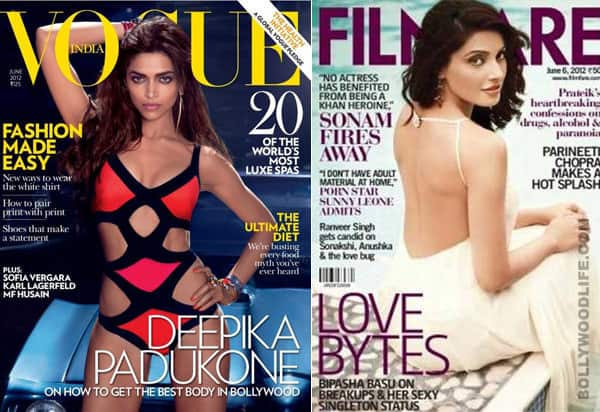 The two leggy lasses had us hooked with their stunning poses splashed on the covers of the leading glossies. Take a look!
The rains are almost here, but the mercury is refusing to slide down. And we have the two sizzling Bollywood babes-Deepika Padukone and Bipasha Basu-to be blamed for that. While Bips in her elegant vanilla-hued backless gown adorned the cover of Filmfare, Deepika- still in the 'let's-hit-the beach- mood', graced the cover of Vogue India in a spunky cut-out swimwear.
We loved the Players star's graceful posture and her uncomplicated style statement. Bips has moved beyond those regular halters and adopted an innovative style to showcase her toned her back. Her nude make up coupled with minimal accessories keeps the viewer's attention riveted on Bipasha's expressive gaze. The overall effect is serene and equally arresting!
Contrary Bip's unruffled look, Deepika's bold and distinctly defined avatar is definitely eye-grabbing. We loved Dippy's edgy swimwear and her chunky accessories. The blazing yellow and the shades of electric blue used in this cover-shot do the full justice to Deepika's piercing eyes.
We loved both covers with their respective cover queens. It's time for you to take your pick!