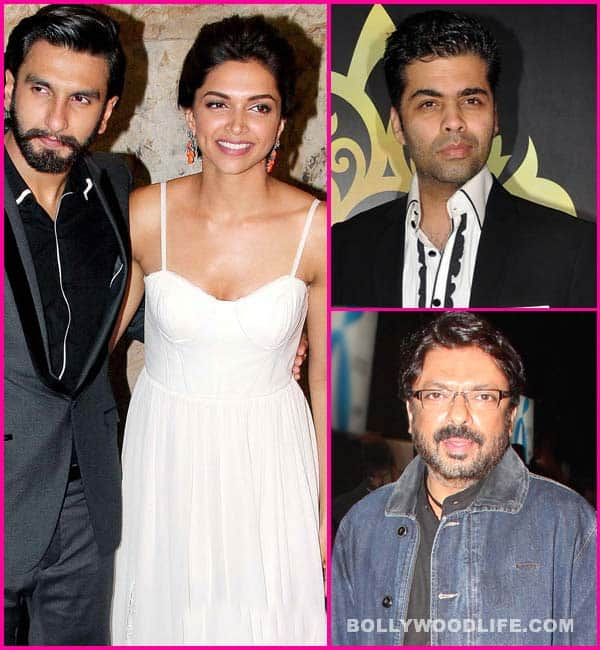 As per the latest grapevine, the Ram-Leela co-stars are the reason behind Karan and Sanjay's growing animosity
Karan Johar's recent comment on Sanjay Leela Bhansali during the talk show Look Who's Talking raised a lot of eyebrows. When asked about the Ram Leela director, KJo had said, "Sanjay Leela Bhansali has gone into a space of negativity and darkness." SLB maintained his silence. In this entire tu tu main main, Bhansali may come off as the good guy, but sources insist that 'Sanjay isn't as innocent as he is made out to be'. And that, in fact, Karan's salvo may have been provoked by him.
Jodi ka jhagda!
It began early February-March this year when Deepika Padukone and Ranveer Singh were all but finalised for Karan's Shuddhi. The jodi was a hit onscreen post Ram Leela and they were seeing each other off it, making for a magical pairing. Just after the Shuddhi news broke, Bhansali, who was in talks with other actors then, persuaded Ranveer to opt out of the Dharma Productions' film. SLB convinced the young actor that Bajirao Mastani would be a bigger film and he was a better director than Karan Malhotra. Ranveer made his choice and suddenly Shuddhi had to start looking for a fresh pair, which threw the film off-schedule. It wasn't long before Bhansali announced that he was repeating his Ram Leela jodi.
What came next?
Bhansali even chose the same date as Shuddhi for the release of Bajirao Mastani: December 25, 2015, which Karan had announced in February this year! This was too much of a co-incidence. KJo, who was already irritated over losing his lead pair, saw this as a deliberate act to mess with his film. Obviously, that didn't go down well with KJo. Not one to mince words, he alluded to Sanjay's negative phase!