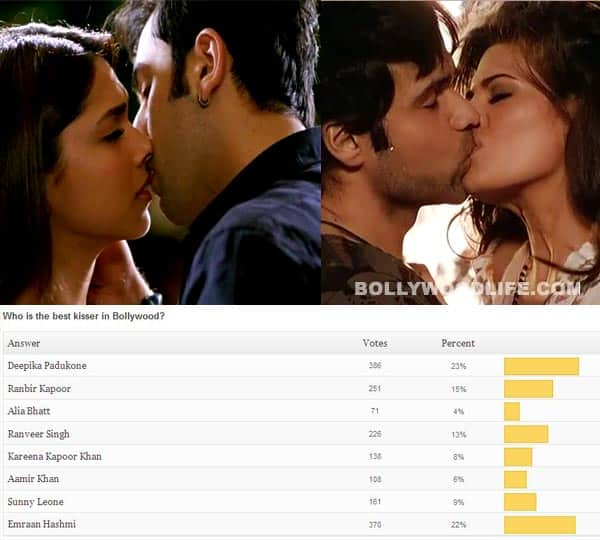 We conducted a poll recently, asking you to pick Bollywood's best serial kisser. Well, here are the results…
Deepika Padukone beats the official serial kisser of Bollywood Emraan Hashmi to win the best serial kisser title! There was a time in Bollywood when actors used to shy away from kissing onscreen. However off late, various B-town peeps do not mind locking lips with their co-stars as and when the 'script' demands. It's like a typical Bollywood movie without a lip-lock is sort of like a bird without wings. Deepika Padukone, Aamir Khan, Ranbir Kapoor, Ranveer Singh are just few examples, who have displayed their kissing talent onscreen and…how!
But we were confused as to who is the best kisser amongst all these people. And that's when we asked you BollywoodLifers, to pick one person as the best serial kisser. You have given your verdict and Deepika Padukone has surprisingly beat the original serial kisser of Bollywood – Emraan Hashmi, and emerged as the winner by acquiring maximum votes. We received a total of 1,711 votes out of which the leggy lass has won the poll hands down by bagging 386 votes, which is over 23 percent of the total votes. The second position, as we already told you is claimed by Mr Hashmi, who got 370 votes, which is about 22 percent. A close fight between the two, we must say.
Ranbir Kapoor has followed the Ghanchakkar actor with 251 votes (15 percent). On the fourth position, there is Ranveer Singh, who has acquired 226 votes, which is about 13 percent of the total votes. Sunny Leone has bagged the fifth position by winning only 161 votes (9 percent). Looks like her sexy presence in movies like Jism 2 and Ragini MMS 2 didn't quite impress the masses. It seems people want to see a sexier avatar of the former porn star on the silver screen. Anyway, Kareena Kapoor Khan is on the sixth place by getting 138 votes (8 percent), while Aamir Khan is on seventh position in the list by receiving only 108 votes (6 percent). And finally, the last position is secured by the new girl in town, Alia Bhatt who has bagged mere 71 votes (4 percent).
So there you are. We would like to congratulate Deepika on winning the best serial kisser title. And as far as others are concerned, they know what to do now to win this coveted title. Wink wink!