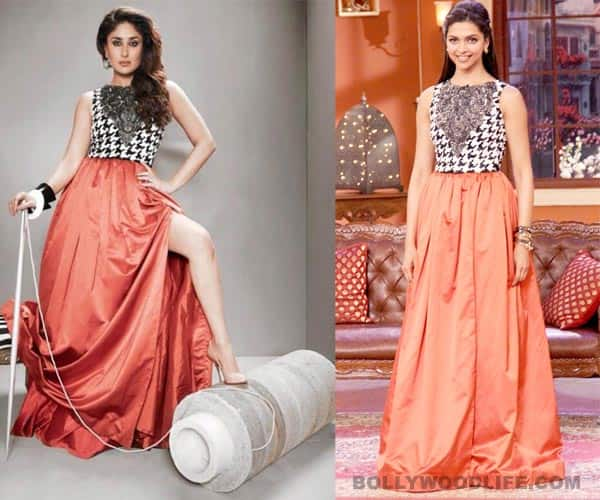 Recently, Dippy was seen in an outfit similar to one Kareena had worn for a magazine photoshoot. Let's take a closer look to decide who carries it best…
Deepika Padukone is known for her great style sense and each time she makes an appearance, we're left spellbound. However, this once she failed to mesmerise us when she arrived on the sets of Comedy Nights With Kapil in a dress designed by Atsu. Could it have anything to do with the fact that not so long ago Kareena Kapoor Khan wore the same flowing gown for the cover shoot of Femina magazine? So what was it about the long dress that worked better for Bebo? And what went wrong with Deepika's look?
The houndstooth patterned top with a bateau neckline and a flowing silk flare skirt is a beautiful creation by Atsu. While the bottom of Bebo's dress appeared peach coloured, Deepika's looked like a bright shade of orange. But well, it could be 'coz of the lighting that the shades looked different. Kareena looked way more comfortable in the thigh-high-slit ensemble, as compared to DP – which surprises us, since Deeps is the model who has no problems with skimpy couture, no? The Begum didn't shy away from flaunting her fair n' toned legs peeking through that slashed skirt. However, Deepika had worn a pair of black leggings under the frock – we wonder, why was the hot leggy lass hiding her sexy legs? Was it modesty for television viewers? But then there have been so many short skirts worn by celebs on Kapil Sharma's show – Parineeti Chopra, Ileana D'Cruz et al, remember? Also, Kareena's hair-do was more interesting than the Ram-Leela actor's boring one. It's unbelievable that style diva Deepika Padukone could ever look blah, but she did indeed.
Also, DP is so known for her originality; then why is she copying Begum Bebo? Or did the stylists mess this one up, we wonder….
While Kareena has won our hearts in her Atsu outfit, did Deepika win yours, BollywoodLifers?