When it comes to dressing to impress, Deepika Padukone knows how to do it.For the Esquire Awards held in Dubai the actress was spotted wearing a tuxedo. She is daring, she is bold and lately, she has become quite fashionable. Yes, we all have our bad style days but this is definitely a good one from DP. Wearing a chic custom made tuxedo by Monisha Jaisingh, the actress walked the Esquire Awards red carpet looking like she owned the hall. Well, at the end of the day, you know who runs the world. With her hair neatly combed straight and smoky eyes, this is perhaps one of the best power dressing I've seen! The golden neckpiece by Bvlgari is also so stunning that it further accentuates the androgynous look. However, I wasn't really a big fan of the red clutch she chose to match with her outfit. Quite honestly, she didn't need the red to make her look feel more powerful. DP's eyes and tux did it all for her. Nevertheless, if I keep aside the bag, it is one of the best looks donned by DP.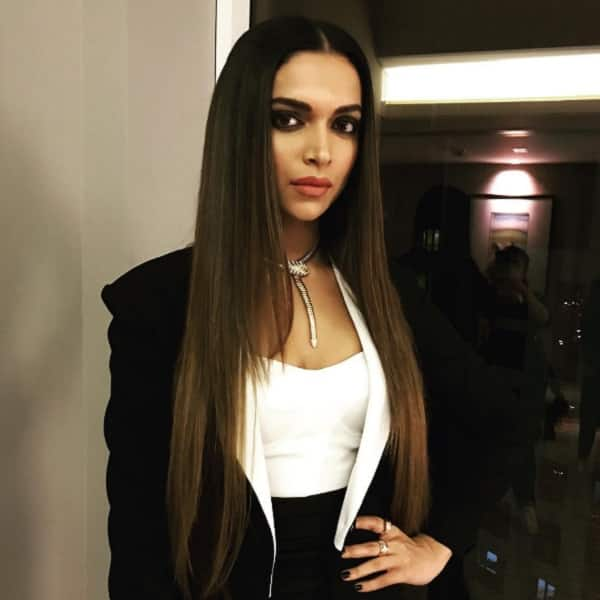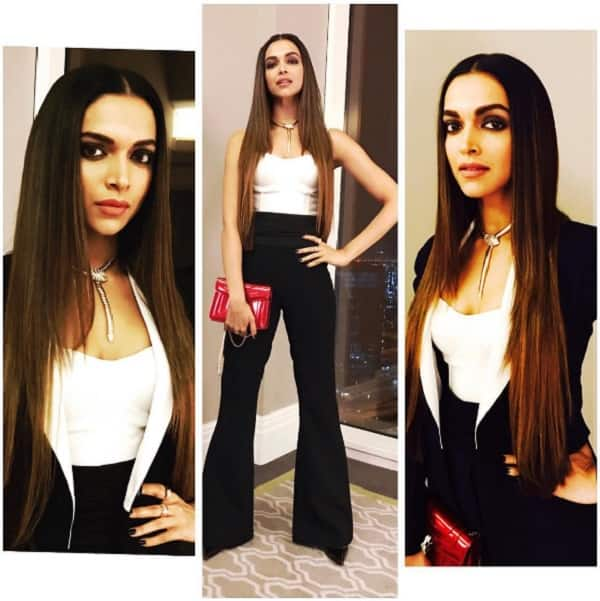 The actress won International Star of the Year award at the event. Well, she may not have started a full throttle promotions for her debut Hollywood film, xXx: Return of Xander Cage but she definitely has got heads turning. Plus, with the impeccable talent and passion she holds, it won't be a surprise to see her become a global icon, like Priyanka Chopra. The Padmavati actress was accompanied by beau Ranveer Singh at the event. He too was bestowed by International Man of the Year award. In fact, we found a footage where as soon as his name was announced, he got up to collect the award but not before he gave a peck to his ladylove. (ALSO READ: Ranveer Singh kisses Deepika Padukone as he heads to collect International Man of the Year Award – watch video)
Apart from winning the International Man and Star of the Year, we suggest they should also receive best style for the evening. They both definitely looked hot with respect to their outfits as well as together! This year, apart from some risque looks by the actress, we've also seen some really good fashion picks from the diva, including her Esquire look. What are your thoughts on Padukone's outfit? Did you like her look? Tell us in the comments section below. Stay tuned to this space for more cues on style and updates of fashion trends!
Deepika Padukone and Ranveer Singh walk hand in hand at the Ambani bash

There were reports a month back that suggested that all is not well between Deepika Padukone and Ranveer Singh. The couple was facing certain issues and there were talks that they might even part ways. However soon Dips was heard saying to her friends that those were just rumours and 'things are definitely on' between her and Ranveer. And with this recent appearance at the Ambani wedding, where they walked hand in hand, we can very well assume that those were indeed rumours and the couple is still very much in love.

Image credit: Yogen Shah

When Ranveer Singh and girlfriend Deepika Padukone went on a movie date

This was during the special screening of Irrfan Khan's movie Madaari. The couple attended the screening together and Ranveer even escorted Deepika to her car post the screening. Dips who's otherwise shy to express her love towards Ranveer was extremely expressive that evening. She gave him a little peck on his cheek as she left the venue and onlookers were left stunned with the couple's PDA moment.

Image credit: Facebook

When Deepika waited hours for Ranveer to come

This happened when Deepika Padukone was shooting for the promo episode of Bigg Boss, season 10. Dips and Ranveer were both shooting at the same premise, just few meters away. While Ranveer was shooting with his good friend Zoya Akhtar for a chat show, Deepika was patiently waiting for him to pack up. As soon as RS was done with it, he rushed towards Deepika, who was waiting inside her car and the couple then drove towards her Prabhadevi residence. Now a girl whose relationship has hit the rock bottom, will definitely not take make much efforts, will she?

Image credit: Facebook

When Ranveer Singh had his eyes set for Deepika Padukone only

Deepika Padukone was the winner at IIFA awards 2016 for her role in Piku. She was dazzling on the red carpet in a creation by Sabyasachi. The night definitely belonged to Ms Padukone and her boyfriend Ranveer Singh was literally in awe of her. At the press conference organised post the award night, we can see how RS is staring at his lady with all love. He's definitely proud of all her achievements and not every girl gets such a supporting guy in her life. You're definitely lucky Deepika !

Image credit: Facebook

When Ranveer Singh followed Deepika Padukone

When Farah Khan threw a birthday bash, the entire industry wallahs came in to celebrate with her. While, Deepika came alone, she made an exit with Karan Johar and Ranveer Singh. Though she was walking along with Karan, Ranveer was seen running behind her with a rose. Aww! Ranveer surely knows how to make girls envy Deepika Padukone.

Image credit: Facebook

When Ranveer Singh called Deepika Padukone, 'BABY'

In the infamous AIB Roast, remember how Ranveer Singh looked at Deepika and said, "Not me baby!" when his partner Arjun Kapoor mentioned that since they are film stars they can have sex with anybody? Not to forget, Arjun called Deepika bhabhi and we could see both Ranveer and Deepika smiling coyly.

Image credit: Facebook

When Ranveer Singh was heard saying I Love You

In between the breaks of AIB Roast, one hears that Ranveer Singh kept on saying "I Love you" to Deepika Padukone. Although the actor didn't say it loud on the mike, he was heard mouthing the three magical words. Several of the people who attended the show confirmed the news.

Image credit: Facebook

When Ranveer Singh accepted that he was staring at Deepika Padukone

While hosting the IIFA Awards at Malaysia, Arjun Kapoor looking at Deepika said, "Woh Dekh Deepika." Ranveer Singh who himself was looking at Deepika flirtingly said, "Tabse Waahin Toh Dekh Raha Hoon…." The camera flashed Deepika's face and an embarrassed Deepika could say nothing beyond – "Stop It!"

Image credit: Instagram

When Deepika Padukone and Ranveer Singh's eyes were just for each other

It was the success bash organized by the makers of Deepika Padukone and Ranbir Kapoor starrer Tamasha. While Ranbir was missing from this bash, Deepika was all smiles as she had her beau Ranveer beside her. This madly in love couple was extremely intimate throughout the evening and they were just lost in their own world. How else should we prove that they're still very much in love.

Image credit: Facebook

When Ranveer Singh came to pick girlfriend Deepika Padukone at the airport

It was during the time when Padmavati was still in it's scripting stage. Deepika was busy with her shooting for XXX – Return of Xander Cage and she landed in the city to discuss the script with Sanjay Leela Bhansali. Ranveer came to pick her up at the airport and the duo was later seen heading towards SLB's office. Now that's definitely sweet on Ranveer's part, isn't it?

Image credit: Facebook