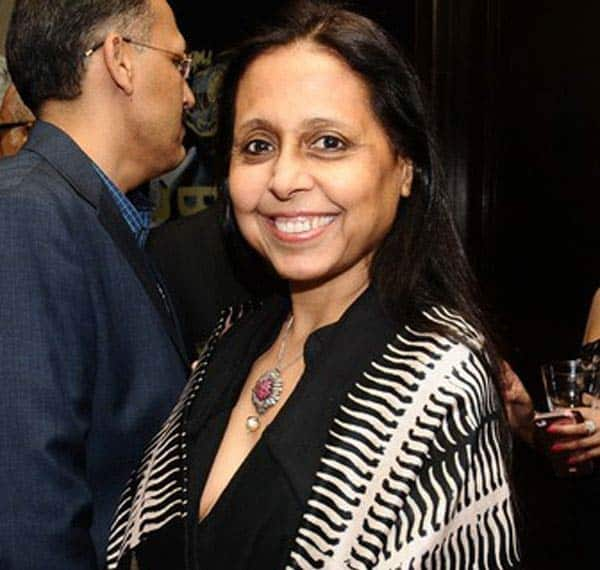 We like Deepika's costumes in Ram-Leela. And the credit goes to designer Anju Modi, who has done a fantastic job. Here's an exclusive interview with the very creative costume designer….
Did you like Deepika Padukone's ghagra choli in the songs Nagada sang dhol and Lahu munh lag gaya from Ram-Leela? All the heroine's exquisite costumes in the film have been designed by Anju Modi, who has been a part of the Indian fashion industry for many years now. Sanjay Leela Bhansali's new movie is Anju's first Bollywood project and she has managed to make the very photogenic Deepika look exquisite onscreen. BollywoodLife presents an exclusive interview with designer Anju Modi….
Ram-Leela is your first Bollywood venture. What was the brief Sanjay Leela Bhansali gave you?
First, we all know about Sanjay's passion for costumes and the kind of detailing he does in them. I was naturally quite excited about the whole thing. He is a man of his word and doesn't really restrain or strain himself too much. He said this is the theme, use your creativity, go over the top if you want, but don't restrain yourself. He gave me the script, which was the brief initially.
You were supposed to design for Priyanka Chopra and then she was replaced by Deepika Padukone. Did you have to change the ideas you had?
No. It was hardly a week's time when the change from Priyanka to Deepika happened. There was nothing that I had to change in the look, as at that point it was all in the discussion stage. According to me, Deepika has more of that innocent village girl look; I somehow thought that she was more apt. If Priyanka had been there, the look would have been slightly different. One automatically starts thinking slightly differently. The thought process hadn't even started, so I can't say I changed it or anything. From the beginning, it was Deepika for me.
The film is set against the backdrop of Kutch. You have kept that flavour intact and yet given a contemporary touch to the outfits….
That's a very good compliment that you are giving me! It is the contemporary interpretation of the Kutch outfit, and to give that little fashion, fun, intriguing factor was pretty challenging.
How did you choose the colour palette?
The colours are vibrant and at the same time we've discussed the set's colours. That is, if the set is so and so colour, then the garment has to be in a colour other than that. All these things were according to the script, sets, stage and design.
How did you change the colours/creations for the moods of the film?
It was very categorically designed, well conceived, and the script was ready. So we knew that after scene one, scene two is coming and then scene three, four and so on. So when the garments were getting ready, we would place them on a hand rack and give them to Deepika. There's a scene where she'll be playing Holi, so we thought, let's not do a typical white outfit. Why not give her a red on red with tinges of white and not all white? We wanted to be different from what has been done till now. Then scene-wise we were discussing things and realised that we hadn't used ochre yellow yet, which is very much Deepika's colour, so we designed a yellow outfit. We were carrying on scene by scene.
SLB researched deeply to get the look of his characters right. You went along with him?
I suggested we to the Calico Museum in Ahmedabad 'coz it displays all the designs from that region. Then we went to Bhuj and other remote areas. I have travelled enough to these places in Gujarat. SLB is a Gujarati, so he too was familiar with styles. We even went back to the time of the Mahabharata to see how earthy looks were created! I am the kind of person who goes deeper into any subject. He did his side of research and I did mine. The prints that we've used are also the old kinds that are so unusual – nobody wears them today – but used so beautifully. When you see the movie, you will know – on the computer screen you can't really see that mix of the print and the work.
We hear that Deepika's costume in the first poster of Ram-Leela apparently weighed 30 kgs and had a ghera of 50 metres – how did you do that and how long did it take?
I would say one month or two months, because it was non-stop working for one and a half years. Nothing comes out in one go. Everything took ten days, 20 days, 30 days. The minute one costume was done, the second was started. This particular costume weighs so much because of the flare. First, Deepika is tall. Second, the outfit is longer than her height because it's falling on the guns. The ghera itself is cotton gauze mulmul with a silk border and silver work printing. All these things add to the weight. Since we're giving so much flare, automatically the weight increases.
the story is that Deepika hurt her arm while shooting for the song Nagada sang dhol and you had to alter the outfit as she had to wear a brace…
No, nothing like that. While she was doing Nagada, she had very bad back pain and had to perform the energetic garba number. But she was very sporting and said she will manage. Garment-wise, I didn't have to make any alterations. There was no scope for alteration. What she had to wear, she had to wear. It was her spirit and courage that she carried on and managed to complete the song.
Deepika is all praises for you. She said that it was the costumes that helped her get into the character of Leela.
I am so glad she has said that! She's never done an Indian role before, so it was a big thing for her to understand the character of Leela. The minute she wore the costume, she got into character. The costumes helped her understand how Leela was spirited, rebellious yet naughty. You can see all that naughtiness in her song too. The costumes aren't constricting her like with a saree. They're not covering her. She's seen in backless cholis and ankle-length lehengas. It's giving her the liberty to be the character of Leela – spirited, fun-loving and sexy.
You've maintained the sexy look despite giving her an Indian look….
That was one of the major things – not to drown her in the Indian look.
Given Deepika's body structure, is she an easy model to design for?
Of course! She has such a lovely body that everything looks good on her. Any flaw doesn't look like a flaw on her. She makes everything look correct, good and sexy.
Is the style in Ram-Leela similar to what you use in your fashion shows, or did you have to move out of your comfort zone to design for the film?
No, it was very much in my comfort zone. I am a lover of handlooms, cottons, the crafts and the heritage. So SLB gave me the chance to do what I really love. The core design sensibilities are the same as I have been doing for the last 20 years.
Have you designed Priyanka's costume too in Ram chahe Leela, the item number?
Yes. And that was again in cotton. No lycra, no stretchy material, no synthetics. Deepika's and Priyanka's outfits are made of cotton. Priyanka's is kind of item song, so I asked if I needed to use any stretch material or lycra or satin and Sanjay said no. A lot of woven fabrics used in remote areas of our country have been used for the film. None of the lehngas or blouses have any synthetic. They're all pure organic cotton, bandhani dupattas and cotton mulmul.
How different or difficult was it to design for Priyanka as compared to Deepika?
For Priyanka, I had to make her look a little more sexy. It wasn't really difficult. I don't think I found any costume difficult. It was something that was already figured out in my mind and then the creativity started flowing. I thought, let's give her a dhoti, but it shouldn't look like a man's dhoti. It's a very aesthetically well-designed dhoti that is revealing and at the same time, shapely. It gives a shape rather than looking clumpy. We had to show off her assets!
Do you have any more Bollywood projects?
No, not yet. I just got free from this! I don't know who else would use such beautiful costumes as a director, apart from Sanjay.