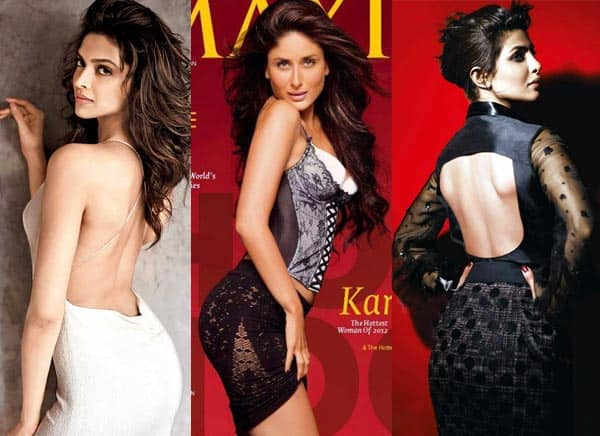 Though Kareena was the one to bring size zero into Bollywood, the babe has now gone back to being curvaceously bootylicious. But is she the only one in B-town who has the butt to beat the rest? Who is at the bottom of the list? You decide!
We certainly think Kareena Kapoor Khan has one of the best toohs (a Punjabi term for 'butt') in Bollywood. Yes, we have heard the song Tooh from Gori Tere Pyaar Mein and enjoyed watching Bebo shaking her booty. The song also features Imran Khan, but when it came to the tooh, he could not match up to his haute co-star. But the Jaane Tu Ya Jaane Na actor thinks he has the best backside (read: butt) in B-town. "I truly think I have the hottest backside. Kareena has the hottest backside after mine," said Imran. Well, we don't agree with this chocolate boy and you won't either, right? 'Coz the bottomline is that where B-town hunks are concerned, only John Abraham's oh-so-hot butt-baring act from Dostana sticks in our minds – all the rest have been left far behind. Johnny boy sure proved he has some kick'ass' assets! And as for the glam gals, how can anyone forget the very glamorous Malaika Arora Khan who grabs the limelight each time she steps out? It doesn't matter whether she is dressed to flaunt or to hide her booty, hai na?
Apart from these, Deepika Padukone, Exotic lady Priyanka Chopra and blue-eyed starlet Aishwarya Rai Bachchan have perfectly curvaceous rear ends. While it is hard for us to pick the best, you can help us by casting your vote to tell us who has the sexiest butt in Bolly-land!