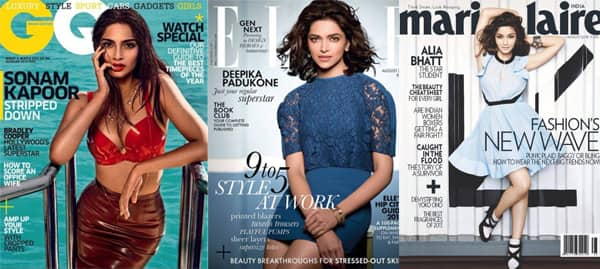 This month's hot glossy covers are out and as always our Bollywood babes make an appearance in their la-di-da designer avatars
While Student Of The Year babe Alia Bhatt keeps it pretty and feminine in a light shade dress on the Marie Claire cover, Sonam Kapoor goes hot and wild on the cover of GQ. It's fun to see heroines get into the fashion groove and show a facet we have never seen before.
Look at Deepika Padukone transforming from this spicy South Indian chick from Chennai Express to this sweet and classy gal on the cover of Elle. Prachi Desai – the comely, plain Jane babe from Rock On!! has metamorphosed to this sexy babe who ditched her top for the new cover of FHM. The gals are going wild and wacky, style-wise and we totally love it. What can we say, it's dissecting time….