Yogen Shah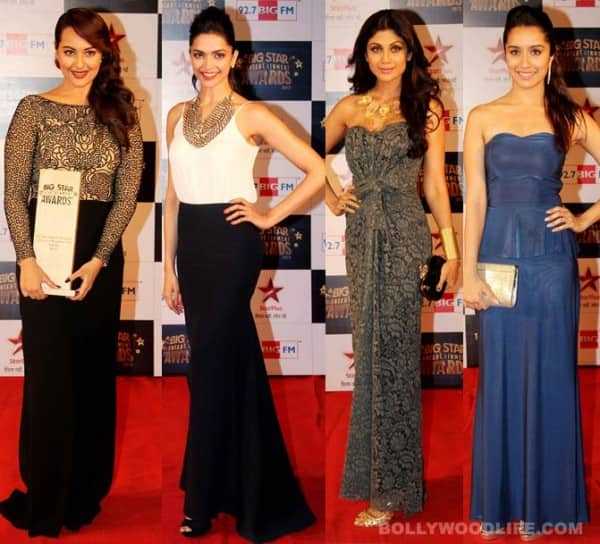 skip advertisement
The red carpet event was graced by more B-town celebs than we can count. Let's take a look and check if they looked good or not…
The fourth edition of Big Star Entertainment's annual awards had a large turnout of B-town folks. Some were dressed to impress, while others bored. While Deepika Padukone set heartbeats racing – as she usually does – Shraddha Kapoor spelled 'blah' in blue.
Sunny Leone looked beautiful and yet so sexy in the attire she had chosen. We're sure you wanna know who turned up how – hai na? Read on!
Deepika Padukone not only won several awards at the function, but won our hearts too. The leggy lass was seen in a black 'n' white outfit teamed with an eye-catching neckpiece. She had a puffed-up hairdo, a bit messily done. Sunny Leone also tops the list of our favourites at the do. The Jackpot actor draped a black and white lehenga saree with a red border and gold zari work. Jhumkas added to her pretty look. Sonakshi Sinha too looked really good in a Zara Umrigar gown with a pair of ankle strap heels. The side swept hair, vintage earrings and impeccable makeup made her look more gorgeous than ever.
Shilpa Shetty Kundra seems to have a lace fetish. She was seen in a grey Dolce and Gabbana lace gown. Not bad, we say. But those gold shoes and accessories were unnecessary and spelled gaudy with a capital G. Not a fan of this look, Shilps! Elli Avram, who was a part of Bigg Boss season 7, attended the event in a blue and red gown, which had sheer fabric around the midriff. We'd like to say to Elli that she's a newbie and she better watch what she wears, 'coz she's always gonne be judged and the higher she climbs, the more eyes that will focus on her. The only good thing about her look was her lustrous red lips – totally droolworthy!
Another newbie (relatively), Shraddha Kapoor was seen in a blue Sonakshi Raaj gown. This girl has such a pretty face, no? Then why does she ruin her appearance with her choice of clothes? With a slender frame like that, she could do much better than opt for such unflattering outfits. Kareena Kapoor Khan never lets us down – she usually makes heads turn at events. And this time around too, she did make heads turn… but to look away, sadly. Bebo was seen in a Shantanu and Nikhil saree gown. Not only was the Gori Tere Pyaar Mein actor's outfit disastrous, her hairdo and make-up did not work. The sleek hair-do made her face look big and the glittery golden eyeshadow… shudder!
But there were others who managed to top these disasters. Aditi Rao Hydari wore a slinky black Mandira Wirk gown – all eyes zeroed in on her glaringly obvious décolletage. Too much unnecessary cleavage show, Aditi! And the middle part in her hair made her look so blah and old. To top it all, she chose a pair of shiny black shoes to match her shiny black frock. Ugh! But the worst dressed award would certainly go to Bobby Darling. Bobby was seen in a totally hideous outfit paired with black stockings with red lipstick marks. See for yourself – what do you think?
So BollywoodLifers, you tell us: Who is the best dressed and who should hire a new stylist asap after their appearance on the red carpet at the Big Star Entertainment Awards?