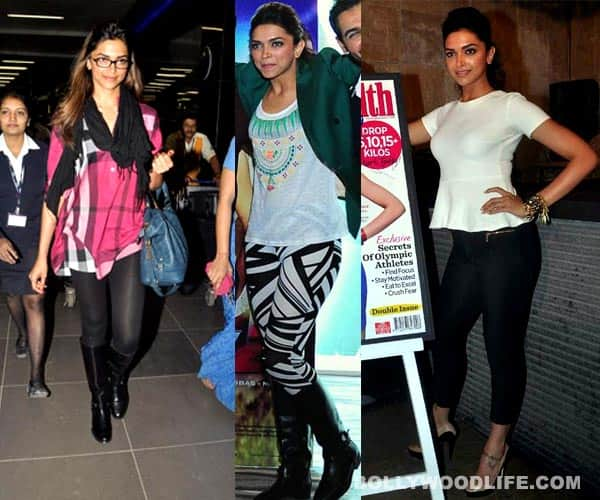 In an exclusive poll conducted by BollywoodLife, Deepika 'sexy' Padukone won the maximum number of votes for pulling off the legging style like an absolute fashion diva
Deepika Padukone has a casual appeal that is difficult to match. She is one of those rare ladies in B-town who will inspire you style-wise even when she's lazing around in a pair of pyjamas or in itsy-bitsy sleep-shorts (remember her look in Volume kam kar from Housefull 2?). And now we have proof; the poll results say it all – Deepika Padukone is leading the race, while the other chicks are still passing the baton to each other.
Since we take our readers' opinions very seriously, we asked them who they think can do justice to the current a la mode leg-accentuating leggings that are crowding this fashion conscious world we call Bollywood. And the response we got was tremendous, as if Bollywoodlifers were trying to say, 'Hello, without doubt it's Deepika Padukone!'. Topping the list with 66.47 percent votes Deeps had Sonam Kapoor trailing behind her with a 16.47 percent show of hands. Phew! Now that's a drastic difference.
DP…continue wearing leggings, and please keep your weight in check, or else it won't be long you start showing a muffin top with awfully 'not-so-cool' thunder thighs…
Read poll story: Who wears leggings best in Bollywood?