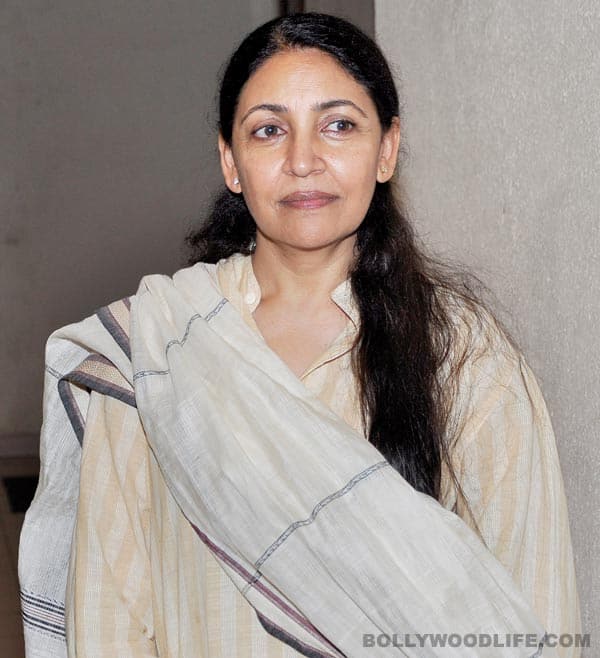 The veteran actor is hurt with media reports that have sabotaged her dignity. She is now contemplating legal action against the print media
Deepti Naval is in a state of shock. Almost two weeks ago, the veteran theatre actor was quite excited about the remake of her film Chashme Baddoor. The interviews she was giving were held at Deepti's spacious terrace apartment; but soon the pleasant conversation she was having with the media turned into an ugly spat with the members of her housing society.
Apparently, both Deepti and Farooq Sheikh were in the midst of an interview when office bearers of her society building Oceanic 1 in Seven Bungalows (Andheri) barged into her apartment and took strong objections to Deepti conducting her official work at her residence. They asked the duo to stop "all this naatak" and threatened to call in the police. The actor was so humiliated that she immediately left for her apartment, Harmony in Madh Island.
But the actor is pretty upset with how the print media has distorted the facts and reported the incident. Naval's letter posted on her Facebook account is as follows:
"We (Deepti and Farooq) were in the middle of this interview when three members from the Society barged into the flat and demanded that we stop this activity – they thought we were making a movie – I explained to them that we were doing an interview but they threatened to call the police. Farooq and my director Avinash Singh and his wife Geeta were all very embarrassed hearing this sort of conversation. Then one neighbour – Mr Rajan Khurana conveyed to me that the society has threatened to call the police if we don't stop 'this activity' right away. I explained again but to no avail. After that I got a call from the secretary of the building who was very irked and repeated that 'We'll have to call the police'. We cancelled all other interviews after that. I was hugely embarrassed; I apologised to my colleagues and they quietly left.
I felt so humiliated and felt my rights as a resident were violated. I'm an artist and have always given interviews in my own home – all artists do that all the time – there is nothing illegal about it. Now this is what follows the incident. A week ago, a journalist friend asked me what I was doing sitting in Madh – and I gave vent to my frustration and explained to him the entire story. Next day, it was out in print – the sensational headline – "I'm not running a prostitution racket" – and the story about the society fiasco, stating how badly insulted I was by the members of my building. Nothing wrong with the content of the article, but this is what follows…
Other papers have picked up the SENSATIONAL HEADLINE and implied as if the society has accused me of running a prostitution racket. I've been appalled! I will post those articles so you all can see how the press distorts everything to make eye-catching news! One of the tabloids has said – DEEPTI NAVAL OUSTED OUT OF HER 'PROSTITUTION DEN'. It is the PRESS that is IMPLYING…
I'm a little confused whether to take action against the print media or should I let it go. If I let this go, then there will be people who'll say – 'KUCH TO HOGA NA… AISE HI TO NAHIN SOCIETY ITNA OBJECT KAR RAHI' – Imagine? Friends from the industry feel 'let dogs bark… you carry on'. I can't go around explaining to the whole world but I can to a few of you, who I know, care…