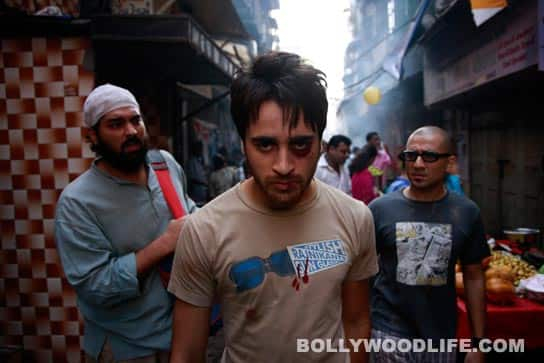 Delhi Belly is a fast, pacy ride. This isn't a film for the squeamish or the easily offended as it contains (covered) erections, (under the covers) cunnilingus and a galaxy of foul language that is used most inventively
A massive hat tip to Aamir Khan (the producer, not the actor) for having the gumption to produce such diverse fare and make it succeed at the box office, for, back in 2001, a four-hour film about cricket (Lagaan) was a huge financial risk. Similarly, films about dyslexia (Taare Zameen Par), farmer suicides (Peepli Live) and an artsy Mumbai diary (Dhobi Ghat) were all risks, but had punters queuing up at the turnstiles. Marvellously written by Akshat Verma, Delhi Belly is a racy caper laced with colourful and rude language and something that a more conventional producer wouldn't have dared to touch.
The plot though derivative and reminiscent of Guy Ritchie films like Lock, Stock and Two Smoking Barrels and Snatch, with a nod to Quentin Tarantino penned and Tony Scott helmed True Romance as well, is fresh to Indian audiences and fresh and original in its treatment. The film follows journalist Tashi (Imran Khan), his photographer Nitin (Kunaal Roy Kapoor) and cartoonist Arup (Vir Das) who live in squalor in a crumbling flat in Delhi. A reluctant Tashi is due to wed his flight attendant girlfriend Sonia (Shenaz Treasury, who has inexplicably dropped the 'wala' from her surname) shortly. Sonia becomes an unwitting mule for a parcel of smuggled diamonds. When this gets exchanged with a packet containing Nitin's stool sample, all hell breaks loose and Delhi's gangland is on the flatmates' trail. Adding to the mix is Tashi's work colleague, the sultry and soon-to-be-divorced Menaka (Poorna Jagannathan) who has the hots for him.
Delhi Belly is a fast, pacy ride that doesn't pause for breath and thankfully for songs, except for a hilarious dream interlude of Arup's. This isn't a film for the squeamish or the easily offended as it contains (covered) erections, (under the covers) cunnilingus and a galaxy of foul language that is used most inventively. The characters look and talk like real Delhi youngsters, speaking in a mixture of English with some Hindi mixed in. Unlike Band Baaja Baaraat and Do Dooni Chaar that concentrated mainly on capturing lower middle-class Delhi, director Abhinay Deo and cinematographer Jason West (Rock On!!), contrast the hip urban cool spots of the city with the crumbling edifices and teeming markets of the old city. The sharp editing and Ram Sampath's pounding soundtrack keep the film moving along briskly and Verma's script always produces a twist where least expected. The acting is uniformly excellent with Jagannathan's debut proving to be a smashing one. Even the normally annoying Treasury is perfect casting, as her character in the film is meant to be annoying.
So, on to the man himself, Aamir Khan. The eagle eyed in the audience can spot his face on a poster above Arup's bed and on a standee outside a cinema playing Return of Disco Fighter, a character Arup is obsessive about. Since the videos have been released, it is no secret that Aamir does a rambunctious homage to Elvis, Carl Douglas and Biddu's Kung Fu Fighting, Mithun Chakraborty's Gunmaster G9 and his and Bappi Lahiri's Disco Dancer all rolled into one over the end credits. This is the perfect cherry on the cake to a great cinematic experience that provides genuine belly laughs. The makers of the asinine Thank Yous and Double Dhamaals of this world would do well to watch Delhi Belly and learn how to make smart comic capers.
ALSO SEE RELATED POSTS:
Aamir Khan: honest man or diplomatic liar?
Is Anubhav Sinha publicity hungry? Aamir thinks so!
DELHI BELLY: stills | Is Anil Kapoor angry with Aamir Khan?