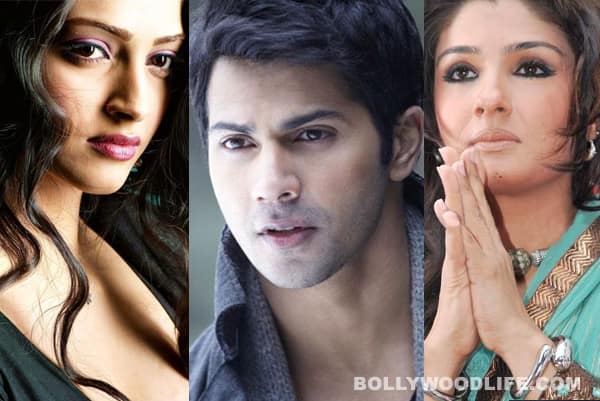 Bollywood celebs were surprised at the suicide of Delhi gang-rape case prime accused Ram Singh in Tihar jail, but they also think his death is good riddance
Yesterday, the suicide of Ram Singh, the prime accused in the 2012 Delhi gang-rape case, sparked late but strong reactions from the Bollywood fraternity on social networking sites.
While regular tweeters like Amitabh Bachchan refrained from commenting immediately, keeping in mind the sensitive nature of the case, soon stars like Farhan Akhtar, Sonam Kapoor, Farah Khan, Kamaal R Khan, Kunal Kohli, Payal Rohatgi and Raveena Tandon expressed their feelings on the alleged suicide of the rape accused. And today, more like Varun Dhawan and Shirish Kunder joined in. Here are some of the tweets of B-towner's on Ram Singh's suicide by hanging:
Varun Dhawan: "i dont know and dont care whether ram singh committed sucide or was murdered. The focus should be on not to let another man become ram singh"
Sonam Kapoor: "Once a coward always a coward. Don't celebrate Ram Singh's suicide. The brute has earned himself an arduous, traumatic trial. Instead he gave himself the easy way out."
Payal Rohatgi: "Why are some news channels going on with sympathy track on Ram Singh death? Guys please make up your mind..Stop the Trp game. !!! I am sorry I have No feeling of Remorse whatsoever on hearing about Ram Singh death.."
Mini Mathur: "Delhi rape accused Ram singh commits suicide in jail. Maybe he should have stuck an iron rod into himself first. Would feel more real na" (233 retweets at last count)
Farhan Akhtar: "If you are a man who respects women… her rights, her dignity, her independence, her mind, her body, her life… you are a #MARD."
Shirish Kunder: "Apparently when Ram Singh's cell mates saw him hanging, they asked him to hang on."
Kamaal R Khan: "Ram Singh has left a suicide note for Indian Judiciary System saying "Tumse na ho payega" kayonki Tum corrupt ho. So main khud hi karta Hun. Parents of Ram singh are saying tat he was handicap then how can he hang himself? Reply to them- Same way how did he rape n kill the girl. I m really surprised to see tat parents are still supporting delhi rapists. If they have shame then they would have killed them themselves. Congrats to Tihar jail inmates to hanged bastard Ram singh and kick on the ass of Ram singh's father who is crying for Ram Singh's death."
Farah Khan: "@ndtv: Ram Singh, main accused in Delhi gang-rape case, commits suicide in Tihar Jail… Hope the others follow him 2!!"
Kunal Kohli: Our justice system is so slow on even open n shut cases.#Ram singh prime accused in delhi rape case hangs himself ! #ram singh hangs himself.Human rights activists pls dont see wrong in this.Wish justice system was faster n had hung him instead. #ram singh hangs himself. Do we wait for the others to get dengue ? Not sure whether to celebrate Ram Singhs death,or mourn slow judicial system! So now ? Enquiry, debate, protest and then …. Forget ! What angers me is why such open shut cases is judiciary so slow ?! Ram Singhs lawyers have guts to say case was going well?! Means what ?! #ram singh. Human rights activists saying he was unsafe in jail,inmates threatened him.Kudos to the inmates is what I say !
Raveena Tandon: "Those who are asking me questions, on whether Ram Singh committed suicide or was hung. Frankly I don't give a damn. Just happy the b……d is dead. May he rot in hell."
Sophie Choudry: "Ram Singh, main accused in the Delhi gang rape case hangs himself. He did to himself what the law should've done to him ages ago! Agreed..Ram Singh took the easy way out. Deserved to suffer MUCH more 4 what he had done. But it's still one sick rapist less on our planet!"
Amitabh Bachchan (yesterday): "Getting news that main accused in Delhi gang rape, Ram Singh, has committed suicide in prison .. true ?"
Anupam Kher: "Ram Singh killed himself this morning in Tihar Jail. My question is, Did he?"
Farah Khan Ali: "The suicide of Ram Singh d rape accused is good news Wish d other accused do d same since d law is taking its own sweet time. Good riddance".
Ramesh Srivats (popular tweeter): "Ram Singh was accused of murder, gangrape, unnatural offence, kidnapping, dacoity, destruction of evidence, conspiracy. Now, suicide also."
Sachin Kalbag (Editor): "A TV channel tweets how Afzal Guru's hanging scared Delhi rape accused Ram Singh. Why would anyone hang himself if he is scared of hanging?".