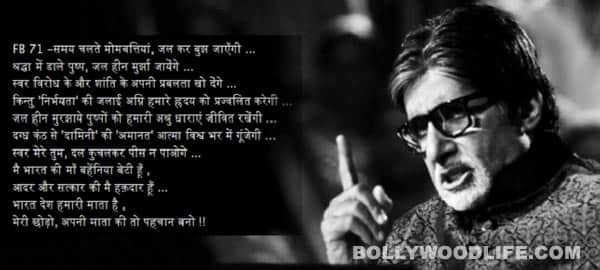 The actor writes a poem expressing his feelings after the Delhi rape survivor passes away
Amitabh Bachchan was as affected by the gang-rape and assault of a 23-year-old Delhi paramedical student as any of us. The superstar had been following updates on the girl's condition, who was critical in the intensive care unit of Safdarjung hospital. He had also been sharing his thoughts condoling the incident on social networking sites, saying this can't happen in a country that worships goddesses.
But after the braveheart succumbed to her injuries on December 29, Bachchan was shocked again. He paid a tribute to Damini aka Nirbhaya aka Amaanat aka 'just a young girl who was raped and murdered'. Big B wrote in Hindi, and also posted an English version of his poem, which we have reproduced below:
"With the passage of time, the candles shall burn out and lose their flame ..
The flowers offered with devotion, shall in the absence of water, get dry and weathered out …
The voices of protest both vocal and silent, shall lose their strength ..
But the 'fearless' ( nirbhayata ) fire that has been ignited, shall rekindle the flames in our hearts ..
The waterless dry and weathered flowers, shall be brought to life drenched by the tears in our eyes ..
With a burning throat the soul of 'Damini' and 'Amaanat', shall be voiced in the entire universe ..
That I am the Mother, sister and daughter of my Bharat ..
Respect and dignity are my birthright possessions ..
Bharat the country is my Mother ..
Forget about me, become at least the recognised worthy face of your Mother ..!!
( Damini and Amaanat are the two names being used for her, as her actual details are not being given out )."
When the case was first reported, the actor's wife Jaya Bachchan, Rajya Sabha member, was in tears in Parliament while discussing the issue. Jaya, who is also an actor, took part in a peaceful march in Juhu, Mumbai on Saturday. SEE PICS
Photo: Amitabh Bachchan's Facebook page