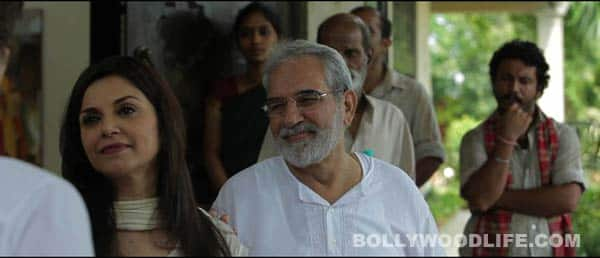 Director Prashant Nair takes you through the best and worst of Delhi and gives you a bunch of endearing and relatable characters
A few minutes into director Prashant Nair's Delhi In A Day, and you will be reminded of Mira Nair's critically acclaimed film, Monsoon Wedding. Only that this time around there is neither monsoon nor any wedding happening. DIAD begins as the story of a British guy, Jasper (Lee Williams) who comes to explore the real India, but ends up discovering himself. A slice of life subtle comedy, the highlights of this indie outing are its characters.
Mukund (Kulbhushan Kharbanda) and Kalpana (Lillete Dubey) play hosts to Jasper on his first trip to India. They are a typical rich South Delhi couple with two spoilt kids who have their own quirks. Jasper has come to India with all his savings and wants to explore the country and make sketches. Things go wrong when on the first afternoon of his trip, he finds out that he has been robbed of his money. The only suspects are the servants at the palatial bungalow.
The team of house helps consists of Rohini (Anjali Patil) – an aspiring star; Udai-Singh (Dinesh Yadav) – the cook who thinks his current employers aren't as classy as his previous one, Chhotu (Arun Mallick) – an over-excitable and effeminate butler of sorts, Venkat and Nataraj – two meek South Indian drivers who find themselves out of place in Delhi, and Raghu (Vidya Bhushan) who has almost become a part of the family over the past two decades.
The prime suspects of the theft are Rohini and Raghu, but Delhi In A Day is not actually about the theft. It is more about dignity of labour and the magic of love. Kudos to Nair for helming a film that is light hearted on the surface but packs a punch without being showy about it.
The chemistry between Mukund and Kalpana is one of the highlights of the film, but the director of photography, Eun-Ah Lee seems to be smitten by Rohini, and wethinks Anjali Patil as the aspiring star is the find of the film. She has an ethereal quality a la Smita Patil. The camera just loves her and she makes the character of Rohini really endearing. Needless to say there are some flaws in the film, but the storytelling makes you want to overlook them. The drunken conversation between Mukund and Kalpana where he is cribbing about not getting the delivery of his Jaguar car, towards the end of the film will make you laugh out loud.
Released by PVR Director's Rare, Delhi In A Day is one of the good indie films that we have watched recently. Watch it for some good laughs, the quirky characters and a subtle reality check about how even a rich man can be judged for poor taste by his chef!
Rating: 4/5
* Poor – Avoid!
** Average – Give it a shot if you are desperate!
*** Good – One time watch!
**** Very good – Must watch!
***** Excellent – Don't miss!
ALSO READ: KSHAY movie review: Depressing, but a very compelling watch!