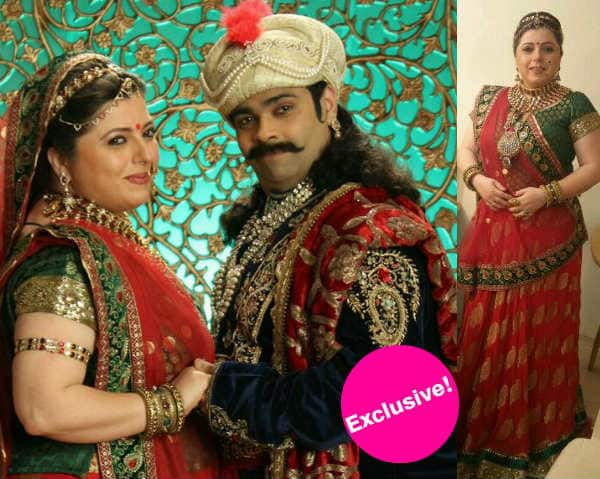 Delnaaz Irani Twitter
The cute and bubbly actor talks about her equation with Kiku Sharda, Vishal Kotian, comedy and her new show Akbar Birbal where she is made to feel like a queen
It took us two hours under the scorching sun and unbearable heat to get to the venue of Delnaaz Irani's new show. Dressed in what seemed like a queen's attire, Delnaaz Irani answered our questions with a smile on her face but with a constant reminder that she was extremely hungry and out of patience. We definitely got the point and decided to keep this one extremely short. Read excerpts from the interview…
What is your role exactly in Akbar Birbal?
I am playing Akbar ki pyaari si halki pulki (lovely and light) wife, Rani Sahiba.
So you are not playing Jodha?
No I am not Jodha; I am just the emperor's queen.
What made you take up Akbar Birbal?
Akbar Birbal is a situational comedy with has been collaborated with history. The concept is lovely. Akbar may be the king, but at home it's his wife he has to listen to. She maybe a queen, but the story is that she ultimately is a homemaker.
How is your equation with Kiku Sharda (Akbar) and Vishal Kotian (Birbal)?
We have all worked together before, so the comfort level is great on the sets. Vishal and I did a show sometime in 2000. As for Kiku and me, we've done plays together and travelled along with the whole group to places for the play. The chemistry between the three of us is great and that I believe makes the show more fun.
With so much heat, doesn't the costume make you feel uncomfortable?
Yes it is extremely hot and this weather is killing. In addition to that, my costume and jewelry is very heavy. But I feel equally excited to do this show. Sometimes the heat makes you want to rip it all off, but the thought of how much people are going to love me in this avatar makes it special.
How different is Akbar Birbal from other comedy shows?
This is an over the top and loud kind of comedy – a genre in comedy that is most loved by audiences. Over the time, I have seen people laughing their guts out at loud characters and over the top comedy. We are catering to what people love the most. This is the first time that comedy has ever been merged with history. But when I say history, it does not mean that we are going to talk about his wars or Akbar's accomplishments. The show will talk about the folk stories we've heard as kids about Akbar and Birbal. It will revolve around the characters and their chemistry in Akbar's court. No other show as far as I know has a similar backdrop. Everything is different about Akbar Birbal.
Wouldn't such a take on history and Akbar the great offend people?
Why should people be offended? We are not doing a stand up or joking about the emperor or his regime; we are merely taking stories of Akbar and Birbal and giving it our own comical twist.