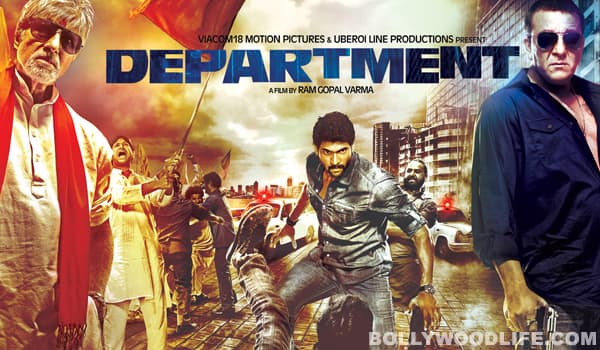 Ram Gopal Varma is ready with his new action-drama film based on the working of the police force
The last time Amitabh Bachchan and Sanjay Dutt came together, which was in Sujoy Ghosh's Aladin, it wasn't a really memorable experience. But this time around could be much different. Maverick filmmaker Ram Gopal Varma has brought the two actors together again, for his new film, Department. The first look of the film shows promise, but of late RGV has earned ill repute, as most of his recent projects have been major disappointments.
An official statement says, "Department is above all a story of a terrifying power struggle within the bowels of the mother of all powers – the police department." The film also stars Rana Daggubati and those in the know claim that the script is very impressive. According to RGV, "The idea behind the poster is to project a thought of ENOUGH OF BOYS…THE MEN ARE HERE, REAL POWER COMES FROM REAL MEN."
Explaining the characters in his film he said, "The character Sarje Rao played by Mr Bachchan represents a Machiavellian character whose power lies in his manipulation and deception. The character Mahadev played by Sanjay Dutt represents an ultra dynamic character whose power lies in his dual personality which he very successfully hides. The character Shivnarayan played by Rana Duggabati represents a shoot-first-talk-later kind of man whose power lies in obedience to people who he respects!"
The first look has managed to create some expectation of this Department, but we reserve our own opinion for the film.
ALSO READ: RGV: I am a devotee of a woman's beauty