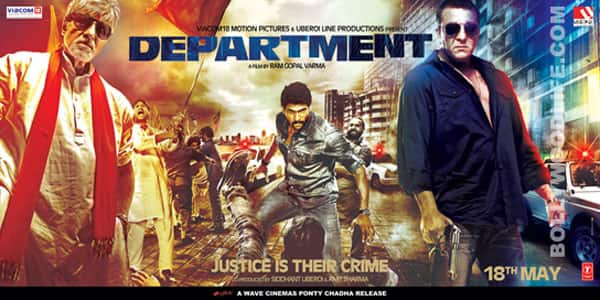 Ram Gopal Varma is turning into a serial offender. Lately, every film that he has directed has been unwatchable and it's only getting worse with each passing moment
It has been a while since Ram Gopal Varma, a filmmaker who earned the respect of his fans by making films like Satya, Rangeela and Company, made a decent film. When was the last time you watched an RGV film and come out even half-impressed? Don't remember? Don't blame yourself. The only person responsible is the man himself – someone who was once looked upon as the saviour of good cinema in Bollywood. As soon as his protégés like Anurag Kashyap, Shimit Amin and Jaideep Sahni found their voices and moved out of his 'factory', the quality of Varma's films began to drop consistently.
The name of his latest outing, Department, indicates the sheer laziness in coming up with something more intelligent. This Amitabh Bachchan-Sanjay Dutt-Rana Daggubati-starrer is a remake of his own cult gangster flick, Company – only that it is a shame to mention the two films in the same sentence. You would be mistaken if you think that unlike Company, Department could be the cops' point of view. No sir, in the first few scenes itself, Ramu establishes that the characters in his opus are mere gangsters in the garb of cops. Dutt and Rana as Mahadev and Shiv respectively, are trigger-happy encounter specialists who are actually worse than gangsters.
Amitabh Bachchan as Sarjerao Gaikwad, a gangster-turned-politician is such a laughable character; it will immediately remind you of his Babban act in Ram Gopal Varma Ki Aag. Abhimanyu Singh (as DK) and Vijay Raaz (as Sawtya) compete with each other to prove who can ham better. The camera looks at the leading ladies with perversion, especially at Madhu Shalini who plays DK's partner in crime. Of course there is also the 'Dan dan cheeni' item song in which Ramu turns totally voyeuristic. And if you look at Nathalia Kaur's facial expressions, you wouldn't want to be anywhere close to her.
The maverick filmmaker has been talking about his unique concept called 'rogue filming' and that's what provides you with most of the laughs, and neck aches and headache. The 'rogue' cameras hover all over his characters and many a times they briefly stop and lovingly gaze at the characters' lower body parts. If you've watched Company, there is not much to write home about the story of Department, except for the fact that it is devoid of the detailing, the passionate storytelling and the amazing characters that struck a chord with you in the former.
We can safely say that what RGV did to Sholay with his self-indulgence (arrogantly titled Ram Gopal Varma Ki Aag) is what he has done to his own film, Company. Bad news for all the film reviewers is that he has left the scope for a possible sequel. For us, the best part about watching Department was that we got to watch the trailer of Anurag Kashyap's Gangs of Wasseypur!
ALSO READ: Controversial song from Ram Gopal Varma's 'Department' axed