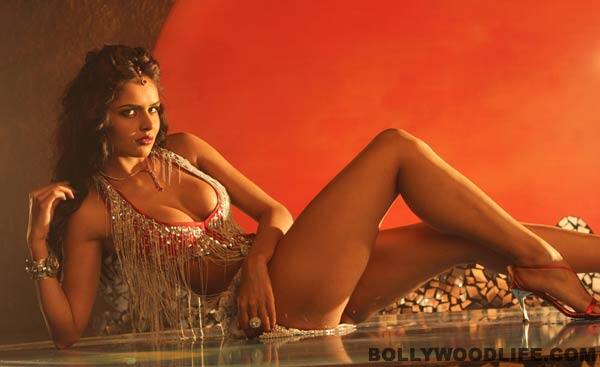 The swimsuit calendar girl will be seen setting temperatures soaring with her hot item number titled Dan dan in Ram Gopal Varma's action drama with Amitabh Bachchan and Rana Dagubatti, Department
Maverick filmmaker Ram Gopal Varma has found a new muse and this time it is superhot model Nathalia Kaur, who is making her Bollywood debut in his new film, Department. Announcing her arrival on Twitter, an excited Ramu tweeted, "Here's welcoming the red hot dan dan girl @nathalia_kaur from Department to the twitter wrld..she's worth following to the end of the world!" Obviously he is smitten by her and there is a strong probability that we'll be seeing more (literally and figuratively) of the gorgeous gal in Ramu's future films.
The item song, Dan dan is choreographed by Ganesh Acharya and Nathalia has shared the dance floor with Sanjay Dutt. We learned that it's not only the director who is in awe of Nathalia; choreographer Acharya as well as Dutt have appreciated her erotic moves in the song. Acharya praised Nathalia saying that he did not take much effort to train her. Just the teaser of the item number has got all the men we know drooling; we wonder what will happen when the makers unleash the entire song!
ALSO READ: Sanjay Dutt plays a callous cop: First look of Ram Gopal Varma's new film 'Department'