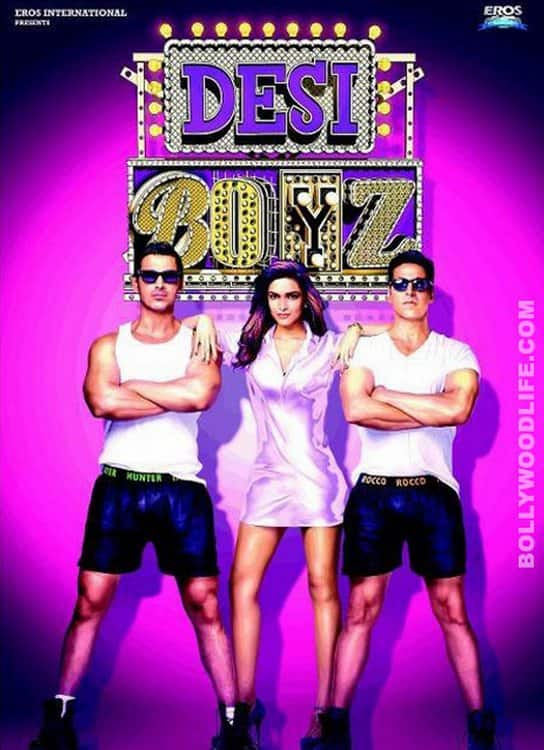 Click for all the trailers, songs, pictures, interviews and gossip related to Desi Boyz, releasing November 25
Akshay Kumar and John Abraham's hyped film Desi Boyz releases this week. Desi Boyz's leading ladies are Deepika Padukone and Chitrangda Singh. The film also stars Sanjay Dutt and Omi Vaidya among others. Here's some part of the story and charaters of the film that we'd like to share with you:
STORY
The year is 2009. The world has been struck by the financial meltdown. But Nick Mathur and Jerry Patel don't feel a thing in their comfortable pad in London. Nick feels smug with his successful investment banking job, the new bonus in his pocket and his beautiful fiancé, Radhika, by his side, while Jerry is so used to scraping the bottom of the barrel and living off his best buddy Nick, that recession feels like home. But life has a way of pulling the rug from under our feet. Nick and Jerry stop smiling the day Nick's company decides to downsize and unceremoniously fires him. And Jerry is informed by the Social Services that his nephew Veer, whose local guardian Jerry is will be placed in a foster home unless he gets a steady job. Desi Boyz is the story of two men who are forced to do something extremely bizarre which gives them instant gratification but the repercussions tear them apart and its aftermath which tests everything including their friendship.
CHARACTERS
Nick Mathur: John Abraham
A graduate of London School of Economics, Nick Mathur is a prototype of the boy every girl wants to make her parents meet. Loyal friend, reliable boy friend, stable investment banker and an all round sweet guy! He happily pays the rent and supports his best friend, Jerry, and provides for his fiancé Radhika's dream wedding and honeymoon, not realizing that, he has turned in a 'ATM card' in Jerry's life and an 'LIC agent' in Radhika's.
Radhika Awasthi: Deepika Padukone
A professional architect, Radhika Awasthi lives in a fairy tale bubble – Dream boyfriend, dream wedding, sensational honeymoon. As much as she loves Nick, her idea of romance is more practical than poetic. It is this cynicism that prevents her from understanding Nick and Jerry's friendship. Ironically, as much as she resents Jerry for using Nick, she is blind to how much Nick humors her idea of a 'perfect' life.
Jerry Patel: Akshay Kumar
Born as Jignesh Patel in a modest Gujarati couple, Jerry changed his name the minute he sat on the plane to come to the UK 12 years back! Jerry's life is a hedonistic series of shortcuts involving drooping out from college, changing several part-time jobs and living off his best friend Nick – the only stable factor and ultimate safety net in his life.
Tanya Mehra: Chitrangda Singh
From being the fat, 'KFC Kid' who was the butt of all jokes, Tanya Mehra blooms into a drop-dead gorgeous and successful Economics teacher at Trinity College. Her no-nonsense professor façade hides a crazy and wild Flower Child interior. She lives life in the moment and fully, not letting anything holds her back from following the beat of her heart.
VIDEOS
DESI BOYZ new song: Allah maaf kare
DESI BOYZ new song: Jhak maar ke
PICTURES
Ranveer, Anushka, Chitrangda, Akshay spotted at Don Bosco school
BIGG BOSS 5: Akshay and John dance to 'Desi Boyz'!
Chitrangda Singh is the hot professor in 'Desi Boyz'
Deepika Padukone promotes 'Desi Boyz'
John Abraham flaunts his new girlfriend Priya!
Meet John Abraham's new girlfriend!
Akshay, John, Deepika, Chitrangda promote 'Desi Boyz'
Is the catfight between Chitrangda and Deepika Padukone a marketing gimmick?
Akshay Kumar stops a man from littering the streets
Deepika Padukone cycles during shoot to keep fit
Priyanka Chopra wants to kiss Deepika Padukone!
Deepika Padukone and Akshay Kumar at loggerheads
'Desi Boyz' lands in legal trouble over copyright issues
When Akshay Kumar unbuttoned his jeans
Akshay Kumar and John Abraham: The real DESI BOYZ
NEWS & GOSSIP
Deepika Padukone eyes Yash Chopra flick, a la Katrina Kaif
Can Akshay Kumar-John Abraham-starrer 'Desi Boyz' be a family entertainer?
Was John Abraham two-timing Bipasha Basu?
What's in a word, asks Akshay Kumar!
Has Salman Khan forgiven John Abraham?
Akshay Kumar roots for Chitrangda Singh
Desi Boyz actors launch apparel line
John Abraham encounters Salman Khan
Chitrangda Singh tries hard to fit in
Deepika Padukone to attempt the impossible!
Deepika Padukone wants her dad to get Bharat Ratna! Huh?
How Chitrangda Singh discovered her funny bone
John Abraham wins 'Desi Boyz' director's challenge
'Agent Vinod' to be showcased with 'Desi Boyz'
Akshay Kumar copies Shahrukh Khan & Aamir Khan!
Akshay Kumar breaks his promise!
John Abraham finds a fan in Vipul Shah
Ranbir Kapoor in Rohit Dhawan's next, 'Bad Boyz'?
Akshay Kumar not comfortable speaking in English!
Is Chitrangda Singh juggling too many hats?
John Abraham's one and only love in 'Desi Boyz'
Deepika Padukone's hot bikini avatar in 'Desi Boyz'
What is Chitrangda Singh doing in Desi Boyz?
John Abraham looks up to Akshay Kumar
What is new about Akshay Kumar's look in 'Desi Boyz'?
John Abraham and Akshay Kumar together again!
INTERVIEWS
Akshay Kumar: John has improved since 'Garam Masala'
Chitrangda Singh: 'Desi Boyz' is like a debut film for me
For John Abraham, script comes first