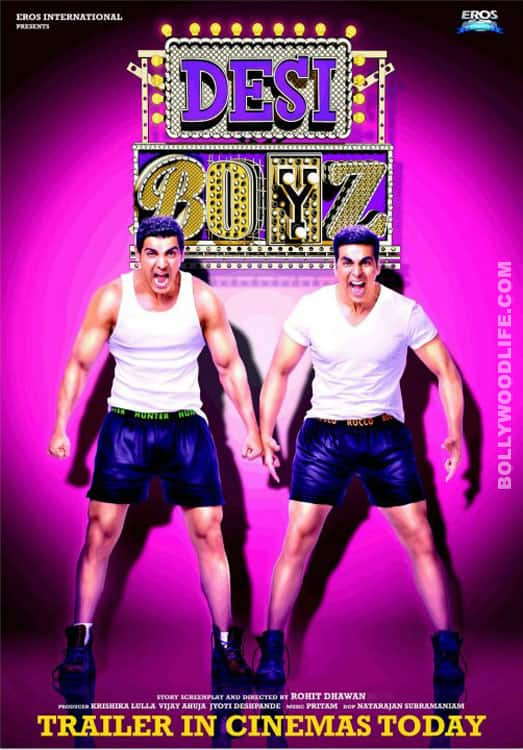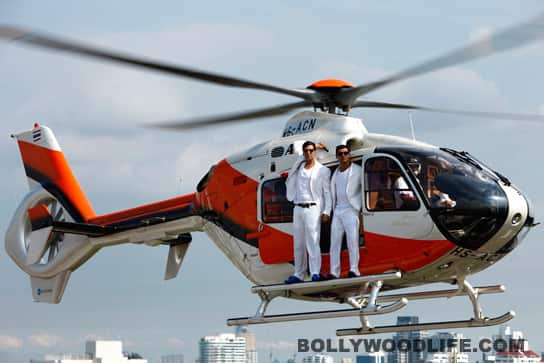 Akshay Kumar and John Abraham are the new Jai-Veeru in B-town! They have a blast in Desi Boyz and make the audience laugh out loud for all the right reasons
Firstly, the trailer of Desi Boyz is misleading and a turn off. Please don't go by it. Rohit Dhawan's film is not half as raunchy or bold as the posters and other publicity material would lead you to believe. It's a fun film about male bonding and the problem that ensues when women enter the equation. The film starts with the bad news of recession hitting the world and swiftly establishes the two lead protagonists – the witty Nick (John Abraham) and the softhearted Jerry (Akshay Kumar).
Deepika Padukone makes an entry as Radhika, and quickly becomes Nick's girlfriend. The two are just about to get married, much to the dislike of Jerry. Radhika is dreaming about a picture-perfect life when recession hits them and turns their lives upside down. The cool investment banker Nick and security consultant Jerry, both have nowhere to go. Jerry also has to look after his dead sister's kid and pay his school fees. As luck would have it, they get picked up by Sanjay Dutt's escort agency. Nick initially thinks it's a bad idea because of his usool and aadarsh (principles as in Deewaar) but because of his yeh dosti (friendship as in Sholay) with Jerry, joins him reluctantly.
While there is not much of a story to talk about here, the way the filmmaker narrates it makes it very funny. Rohit has a firm grip on not just the comedy but also the romantic and dramatic portions. Sanjay Dutt's extended cameo does more justice to his imposing screen presence than most of his recent films where he is criminally wasted. The songs aren't forced and add to the entertainment quotient for a film of this genre. The technical aspects of filmmaking have been well taken care of and there is nothing to complain about.
If you went by the trailer of the film, you will wonder why Akshay is playing a college student. When you watch what actually happens in the film, you will understand and appreciate that Akshay as a college student is as believable as Shahrukh Khan is in Main Hoon Na. Chitrangda Singh pulls off the hot professor a la Sushmita Sen in MHN. Anupam Kher is another highlight of Desi Boyz. Remember the cool dad act he pulled off in Dilwale Dulhania Le Jayenge, by swigging beer with his son? He ups the ante this time around, by smoking weed with his soon-to-be-son-in-law.
The best thing about Desi Boyz is that it has its heart and brain in the right place. It looks at the boy-girl relationship in a balanced manner which is a pleasant surprise. There seems to be a hopeless romantic lurking within Rohit. He makes a sweeping statement in a simple passing line – when Nick tells Radhika that you don't need all the riches in the world to find happiness with the one you love; it could be a humble chicken roll but if you share it with the person who means the world to you, it tastes better than the best delicacies money can buy. Having said all this, Desi Boyz, obviously belongs to the boyz. The girls, as pretty they may be, have very little to offer. Make time for the boyz this weekend for some good laughs, a little melodrama and some serious eye candy!