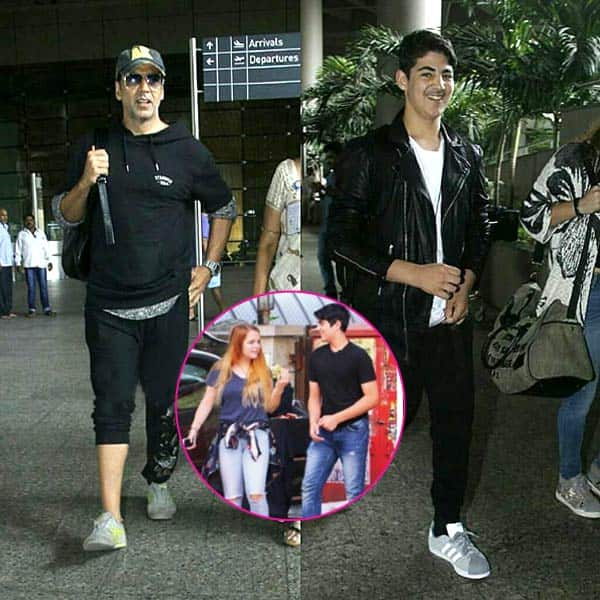 Jhanvi Kapoor, Navya Naveli Nanda and Sara Ali Khan are among the hottest celebrity star kids around whose Bollywood debut we are eagerly awaiting. But hey, if you thought it was just the girls who are making it to the headlines every now and then, let us tell you that the boys are no less! Every other day we come across some hot picture of Aryan Khan and all we can do is just stop and stare at him for as long as we can. And not to forget Saif Ali Khan's son Ibrahim who is an exact copy of his father. And now, there is someone else too who is all set to become the next popular star kid. We are talking about Akshay Kumar's son Aarav Bhatia. Aarav is all growing up and how!
Akshay's son Aarav was spotted last week in one of the popular cupcake parlors in Bandra. And guess what? He wasn't alone. The young lad had a special company. He was accompanied by a female friend. The two alighted from Akshay's SUV that was being driven by a chauffeur and walked into a cupcake parlour in Bandra, says a Mumbai Mirror report. Now it is very likely that they could be just friends and were casually hanging out or maybe not.. Now we all know how popular Mr Khiladi was among women during his younger days. And Aarav too is growing up to be a dashing young boy. Don't you think so? (ALSO READ: Akshay Kumar and Saif Ali Khan's sons Aarav and Ibrahim are Bollywood ready – we have proof!)
Akshay Kumar is one of the leading actors of B-Town. He is ruling Bollywood and now it looks like his son is soon going to carry the legacy forward. He's got the good looks and charm of Akshay and Twinkle and if he plans on making a career in Bollywood, he will definitely go far! It is amazing how the gen next of Bollywood is already in the news starting from Shah Rukh Khan's eldest son Aryan to Amitabh Bachchan's grand-daughter Navya Naveli. And now, Aarav Bhatia!
Akshay Kumar recently paid visit to one of the BSF camps in Jammu and Kashmir

The superstar visited the camp to pay homage to soldiers who laid down their lives for the country. Akshay shared how much honour he felt in meeting soldiers of the country.

Image credit: Twitter

Akshay Kumar called Indian soldiers the real heroes during his visit to BSF camp in J&K

While praising them for their bravery, Akki told the soldiers that it is them who are the real heroes of the country.

Image credit: Twitter

Akshay Kumar turns clown for daughter Nitara on her birthday

Superstar Akshay Kumar is a doting father and this picture says it all. He shared this picture on social media and wrote, "Sometimes she makes me a crocodile sometimes she makes me her clown!The things we do,but that smile makes it all worthwhile. #birthdayspecial."

Image credit: Instagram

Another picture of Akshay and Twinkle's daughter Nitara's birthday celebrations

As she turned 4, Akshay and Twinkle shared these precious pictures of Nitara spending some quality time with father Akshay Kumar on her birthday. Twinkle captioned this image as "Nitara makes Daddy a crocodile on her birthday #happy4th."

Image credit: Instagram

Akshay Kumar taking a morning walk with his daughter

No Sunday pics can be cuter than this!

Image credit: Instagram

Akshay Kumar as a guest of honor at a Parsi Community event in New York

Amid his travelling goals Akshay Kumar also attended a Parsi Community event in New York.

Image credit: Instagram

Akshay Kumar shares Statue of Liberty's picture during vacation

After Italy and Switzerland, the couple in now in New York, thus enjoying their vacation.

Image credit: Instagram

Akshay Kumar clicked with wife Twinkle Khanna on their New York trip

They make a happy couple!

Image credit: Twitter

Akshay Kumar snapped with his daughter as he says goodbye to their New York trip

It's time to come back home for Akshay and his family!

Image credit: Instagram

Akshay Kumar and Twinkle Khanna snapped inSwitzerland

Akshay and Twinkle were celebrating International Yoga Day even when they were on a vacation.

Image credit: Twitter

Akshay Kumar with Twinkle Khanna in Switzerland

Akshay and Twinkle are off to Italy and Switzerland for a family vacation.

Image credit: Instagram

Twinkle Khanna shares picture of friends during vacation

Twinkle Khanna is on vacation with friends too.

Image credit: Instagram

Akshay Kumar during his holiday

Akshay is spending peaceful time with family at a secret destination that he does not want to reveal.

Image credit: Instagram

Twinkle Khanna and Akshay Kumar in Amara ad

The couple is seen together on screen after long time.

Image credit: Twitter

Twinkle Khanna and Akshay Kumar's Amara ad

Twinkle Khanna looks at husband while he makes pizza for his lady.

Image credit: Twitter

Akshay Kumar clicked with wife Twinkle Khanna

Akshay and Twinkle are love struck in their ad shoot.

Image credit: Twitter

Twinkle Khanna with hubby Akshay Kumar in Amara ad

Twinkle and Akshay have shot for the house lifestyle and luxury brand Amara.

Image credit: Twitter

Akshay Kumar and Twinkle Khanna's still from Amara ad

Akshay and Twinkle portray a perfect married couple living in a perfect location.

Image credit: Twitter

Akshay Kumar with wife Twinkle Khanna during an ad shoot

Akshay and Twinkle have shared screen space after so many years.

Image credit: Instagram

Akshay Kumar and Twinkle Khanna clicked during an ad shoot

Akshay and Twinkle look amazing together while they are doing this ad for a brand.

Image credit: Twitter

Akshay Kumar shares refreshing pic of family

Akshay shared this pic and gave a beautiful caption to it.

Image credit: Twitter

Akshay Kumar clicked watch WT20 match in Delhi

Akshay had tweeted this image while watching WT20 match in Delhi after his shoot for Robot 2.

Image credit: Twitter