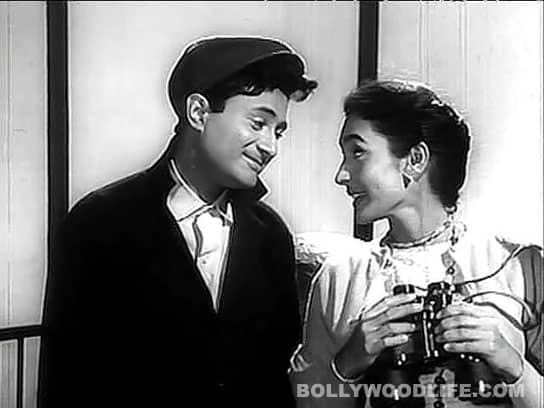 Dev Anand left an indelible mark in our hearts through all the movies he acted in, produced and directed…
For over five decades, Dev Anand was intimately connected with the Bollywood. Be it the movies in which he acted, produced or directed. Dev Anand's movie career panned over 110 movies, ranging from Hum Ek Hain (1946) to Chargesheet (2011). All these movies contain the imprints of this great star. Dev Anand believed in what he made, irrespective of all the opinions around him. His conviction was his strength. While we do miss his presence immensely, here are some movies that make us feel that his lively spirit is still amongst us, dropping the choicest of billet doux and hinting subtly at social messages.
Taxi Driver (1954)
It was a runaway hit of its times. The story of this movie revolved around the adventures in the life of a taxi driver. The movie came under 'Navketan Films', a banner founded by Dev Anand and his brother Chetan Anand. It starred Dev Anand, his to-be wife Kalpana Kartik and Johny Walker.
Paying Guest (1957)
This was a movie that was directed by Subodh Mukherjee. It starred Dev Anand, Nutan and Shobha Khote. Mana janaab ne pukara nahin… is the song from Paying Guest.
Kala Paani (1958)
Acchha ji main haari… is the song from Kala Pani. The movie is based on AJ Cronin's novel, 'Beyond the Place' and starred Dev Anand, Madhubala and Nalini Jaywant.
Hum Dono (1961)
Main zindagi ka saath… is the song from this movie which starred Dev Anand in a double role. It was written by Dev Anand's younger brother Vijay Anand. Originally a black and white movie, it was recently released in colour after the release of Chargesheet.
Asli Naqli (1962)
This movie was directed by Hrishikesh Mukherjee. The star cast contained Dev Anand, Sadhana, Leela Chitnis, Anwar Hussain, Sandhya Roy and Keshto Mukherjee. The movie was a huge boxoffice hit.
Guide (1965)
This is a movie that revolved around the life of a tour guide. The movie is based on a novel 'The Guide' written by R.K. Narayan. It is a cult movie that became synonymous with Dev Anand's persona. It is believed that Dev Anand was at his best in this movie. Recently, Guide was translated in French and has earned the appreciation of many fans in France too!
Teen Devian (1965)
Likha hai teri aankon mein… is the song from Teen Devian. In this movie, Dev Anand was starring opposite three heroines – Simi Garewal, Nanda and Kalpana. It was one of the last few masterpieces by SD Burman.
Jewel Thief (1967)
This was produced by Navketan Films, . The movie was directed by Vijay Anand and had an impressive star cast that comprised of Dev Anand, Vyjyantimala, Tanuja, Ashok Kumar, Helen, Faryal, ANju Mahendru andSachin. We also remember the movie for so many hit songs that it contains.
Prem Pujari (1970)
While not many people associate Dev Anand with his debut movie Hum Ek Hain, by the time Dev Anand directed Prem Pujari, he was a cult. Dev saab started his directorial career with this movie, and it is believed that he plunged into this just to keep himself away from the thought of Suraiya.
Johnny Mera Naam (1970)
Here's another classic movie that was again written by Dev Anand's brother Vijay Anand. The movie was a suspense thriller that kept one glued to the seat. The story revolved around the clichéd Bollywood idea – two brothers being separated during childhood – the role of the two brothers was played by Dev Anand and Pran.
Hare Rama Hare Krishna (1971)
This movie dealt with the decadence of the hippie culture. This movie rocketed Zeenat Aman as an actress and she won the Fimfare Award for Best Supporting Actress. Dum Maro Dum from this movie was recently remixed, much to the annoyance of Dev saab.
Des Pardes (1978)
Tina Munim debuted in this movie, another actress who was Dev Anand's discovery. The movie was directed by Dev Anand and is  a family drama that revolves around the fate of Indians who settle in foreign countries.
Chargesheet (2011)
This movie was released recently and was Dev saab's last movie. The movie was so close to Dev Anand's heart that he post-poned the release of a colourful Hum Dono just to accommodate the release of Chargesheet.