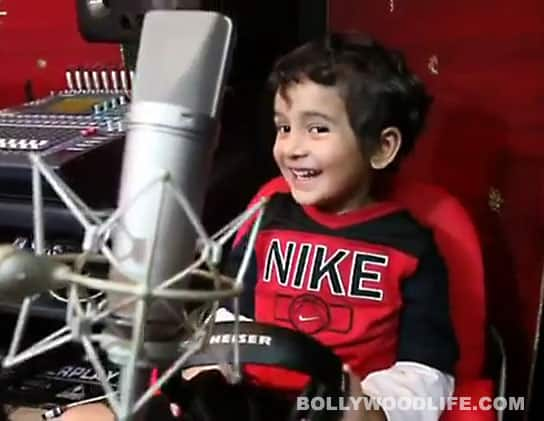 The actor-singer wants to meet Sonu Niigaam's son Nevaan and also make a video with him!
Tamil star Dhanush's chartbuster Why this kolaveri di is being loved by all, but he is highly impressed with the version sung by Sonu Niigaam's four-year-old son, Nevaan. "Oh my god I'm in love with Nevaan's version of 'Kolaveri'. Great idea Sonu Niigaamji. It's very touching and endearing. Hi 5 nevaan. God bless," Dhanush posted on micro-blogging site Twitter. Neevan's version of the song has some different lyrics, but his innocence in the video has been winning hearts ever since it went online. If Dhanush's song was called 'Soup Song', Neevan calls his version 'Milk Song'. After receiving Dhanush's compliments, Sonu tweeted: "Thank u @dhanushkraja ji… He so loved the song that we thought we should do this for him… And now he thinks you'll meet him

More Power!" Dhanush, son-in-law of superstar Rajinikanth, more than welcomed the idea. "@sonuniigaam he is a Rockstarji. Would love to meet him and also make a video with him. I know he will steal the show. Still… God bless," he responded. Sonu seemed excited at the prospect of getting his son to meet Dhanush. "@dhanushkraja He'll be so happy to meet u… He has emulated ur style so enthusiastically afterall… @dhanushkraja Thank u for giving our nation such an endearing treat of a song… God bless," tweeted Sonu. Kolaveri di has received over 17 million hits on YouTube so far since its release November 16. The number has been composed by 18-year-old Anirudh Ravichander for Dhanush-starrer 3, which is being directed by his wife Aishwarya. The film also stars Shruti Haasan.
CLICK TO READ ALL 'KOLAVERI DI' BUZZ