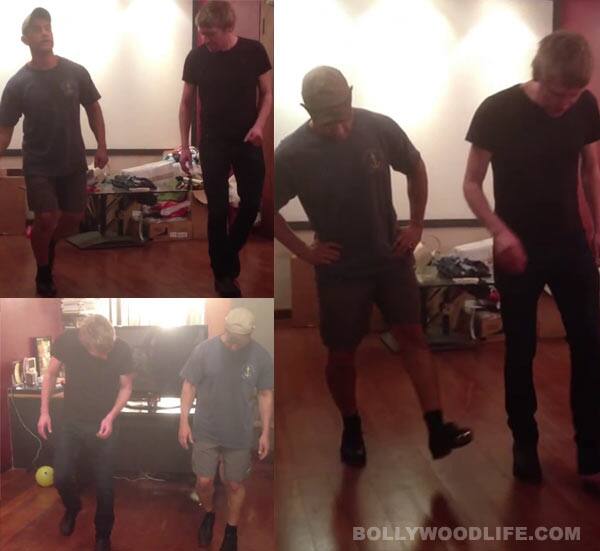 After watching Aamir's attempts to dance in a special way, all we can say is that the Perfectionist Khan may not always be perfect
Aamir Khan has put in a lot of effort in the tap dance song in his much awaited new film, Dhoom:3. In fact, the actor has worked really hard to get the right body for the film and also for the action sequences. Only when it releases will we know if his hard work has paid off. Meanwhile, with his tap dance Aamir has surely not danced his way in to our hearts. Here's some goss about AK's song!
Do you remember when Aamir had taken off for Australia? Well, the actor had gone Down Under for over a month to learn the grungy form of tap dancing, which is said to be more difficult than the classic style and requires higher energy! What's more, he was being trained by Dein Perry, the choreographer of the opening ceremony of Sydney 2000 Summer Olympics. Dein also choreographed the animated film Happy Feet Two in 2011.
Perfectionist Khan spent 50 days training for the two minute song. Aamir would practice the moves with Perry's students, aged between 10 and 14. Also, Perry and few of his team members flew to Mumbai to assist Aamir while he was shooting for the song.
It's rightly said, 'no gain without pain'. But do you think that Aamir's efforts are visible in his dance sequence? Are his moves as swift as the Greek god-like Hrithik Roshan's? Tell us your opinion, BollywoodLifers!
[flv image='http://st1.bollywoodlife.com/wp-content/uploads/2013/12/amir-trains-for-Tab-Dance.jpg']http://st1.bollywoodlife.com/wp-content/uploads/2013/12/Aamir-Khan-Trains-for-Tab-Dance.flv[/flv]