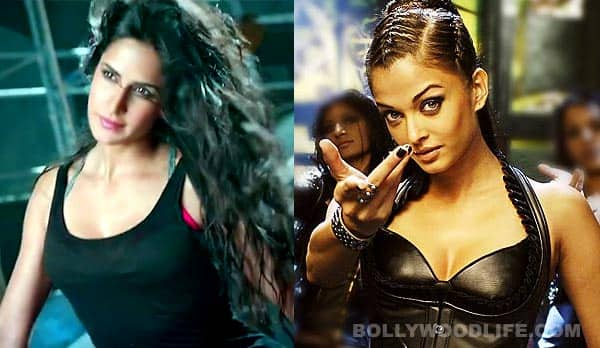 If you ask us…not really! But we do admit that Kat has put a lot of effort into this number but, sadly, the end result isn't impressive…
The makers of Dhoom:3 have released the promo of yet another song, this one featuring leading lady Katrina Kaif. The song is peppy, fast paced and Ms Kaif is absolutely stunning to look at. But the babe seems a bit uncomfortable doing not-so-conventional steps. Especially after all the hoopla around how she and her co-star Aamir Khan have trained so hard to get their moves right, we are kinda disappointed. On watching the video, we instantly remembered Aishwarya Rai Bachchan's solo number Crazy kiya re from Dhoom 2. The blue-eyed beauty nailed it to perfection – the look, the moves and the attitude. While Katrina's Kamli comes quite close to Ash's hit song, Ms K just doesn't get there, coz the B-town beauty is trying too hard; to us, there seems to be too much aggressive strength and not enough soft feminine grace. What we really liked are the acrobatic stunts that Katrina does – KK has the technique right and does the complex and difficult moves quite easily. Watch the video and you'll know what we mean.
As for the song and the music – it's always a delight to hear Sunidhi Chauhan's dumdaar and impactful voice. Pritam has done a fine job with the music, but it does sound familiar, like something we have heard often before. Who knows we may like the song and the dancer more when we watch the film in entirety.
Bollywoodlifers, now you listen to the song, watch the video and share your opinions with us right away!
[flv]http://st1.bollywoodlife.com/wp-content/uploads/2013/12/Kamli.flv[/flv]