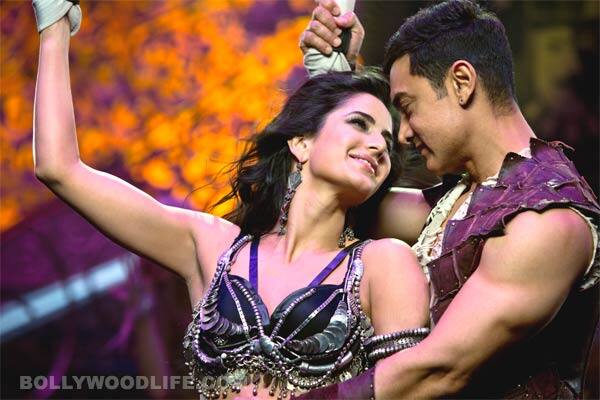 Here's another take on the the recently released film starring Aamir Khan, Katrina Kaif, Abhishek Bachchan and Uday Chopra
Doom Doom Doom! No, I haven't missed the 'h' by mistake. That's the explosive sound which originated in my wallet when I got to know that the tickets were for Rs 900. Fortunately for me we went for the Rs 250 ticket at a suburban multiplex and it was sponsored by my generous uncle.
The story of Dhoom:3 starts off with Jackie Shroff, owner of The Great Indian Circus, based in Chicago. His son Samir (Aamir Khan) is an acrobat and performs in his father's circus. However, his circus is in danger of being taken over by the Western Bank of Chicago, for defaulting on its loans. So, Shroff tells the bank managers that he shall put up a performance that shall be 'the greatest show in the world', and if they like it, they would let him keep his circus. Now this makes you think that Shroff would hire performers from India's Got Talent and all of a sudden the bank managers would be replaced by KJo, Kirron Kher and Malaika ji. Unfortunately, bank waale uncle, who always has stern expression on his face is not impressed with Shroff's magic trick, and tells Shroff to pack up and leave in five days.
Shroff does not take this well, and starts saying ma******* and bhen*** to foreigner uncle, and this video goes viral on YouTube. I'm so sorry! I meant that was what the audience was expecting, but Shroff stuns the audience by simply shooting himself point blank with a revolver. Sahir grows up pledging that he would destroy this bank and its manager, Mr Anderson (Matrix re-re-loaded, anyone?) one day, and hence robs different branches of the bank to run it down. And yes, Aaliya (Katrina Kaif) is Sahir's love interest. Since Sahir leaves a message in Hindi after each crime, and the SWAT and Chicago police flunked in Hindi 101 when in college, Jai Dixit and Ali Akbar (Abhishek Bachchan and Uday Chopra) are flown in from Dhoom 1 and 2 to solve the case. I shall shut up now, as saying anything more would simply reveal the plot.
Aamir's performance in the film goes dynamo after the first twist (revealed just before the interval) when you gasp out. The only other thing that overshadows Aamir's performance are his abs and deltoids. You admire the dedication it took to get those even more while munching on the hot dog you purchase during the interval. Aamir's tap dancing song is average, apart from his wardrobe and the professional backup tap dancers. Jackie Shroff delivers a touching performance as the showman whose dream is snatched away from right under his nose. Katrina has literally worked her ass off for the song, 'Kamli', and it shows. She has been part of numerous dance numbers before, but this one shall surely stand out. Abhishek Bachchan and Uday Chopra basically reprise their roles from the first two parts of the Dhoom franchisee. Uday's dialogues have been poorly written, and if they were genuinely funny, he could have carried them off well.
As far as cinematography goes, that's where the film clinches you. The 'Malang' sequence is brilliantly shot, unlike the most of the dance numbers today that have crores spent on them with all the firangi dancers picked up from Colaba, dazzling lights and numerous props- the end result being a massive headache. This song, however, is a beautiful piece of art in motion. The chase sequences are very well shot and are the highlight of the film. In fact, the scenes shot in Chicago's underground remind one of scenes from The Dark Knight. Also, just like the Joker, Sahir too leaves a clown souvenir at the site of his crimes. Do not be late for the film; otherwise if you enter during Abhishek's intro scene you will think you've entered a Rohit Shetty flick, as the auto he enters in defies gravity and then some.
Now, there are people who will leave the hall and say, 'Arey yaar, story nahi thi'- all I have to say them is to please go and read Charles Dickens, you'll get your intellectual stimulation and weekly vocabulary updates from there.
The scene where Sahir's bike turns into a speed boat is well shot. Then again, there are people who will laugh and say, 'Arey ye kya, bike nauka ban gayi. Bakwaas!' These are the same people who will go ooh and ahh and what an idea sirjee when they see James Bond's Lotus Esprit submarine car, in the 1977 film The Spy Who Loved Me. Waah beta waah, Bond kare toh stud, Dhoom kare toh slut?
That's all for now folks, see you next time, with a new movie, and new perspectives.
Rating:
out of 5
Reviewed by BollywoodLife
* Poor
** Average
*** Good
**** Very good
***** Excellent
Review by: Kabir Singh Bhandari