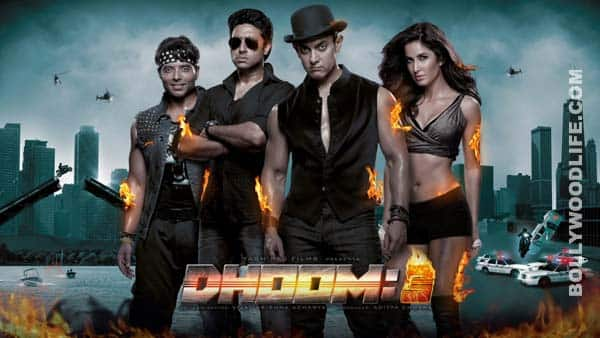 Music: Pritam
Lyrics: Amitabh Bhattacharya
Singers: Siddharth Mahadevan, Shilpa Rao, Sunidhi Chauhan, Mohit Chauhan, Aditi Singh Sharma, Shivam Mahadevan, Anish Sharma, Julius Packiam, Naya, Pritam
Packed with stars like Aamir Khan, Katrina Kaif, Abhishek Bachchan and Uday Chopra, Dhoom:3 has undoubtedly become one of the most anticipated movies of the year. Slated to hit the theaters on December 20, the movie has already exalted expectations of the audience, all thanks to the blockbuster effect of the past two installments. The series is famous for the fast paced bikes and the adrenaline rush they bring along, but without engaging music all of that seems insipid. Pritam, who has been composing the music for the series since the beginning, was expected to take it all, a notch further up this time. But has the music really stood up to our expectations?
• Malang starts with an Arabic classic musical milieu and is healthily supported by apt lyrics, still there is something amiss. A Sufi song, with contemporary beats which has been planned in an extremely desi way – doesn't sound quite right. Although the music is good, the song somehow doesn't create that magic in your ears. The only good part of the song is where the Ragas come in the background as chorus and Shilpa Rao's strong voice quality overshadows Siddharth Mahadevan's singing attempts in the song. Overall, a very average song.
• Kamli is Katrina Kaif's version of Aishwarya Rai's Crazy Kiya Re. The track has some very up-to-date beats in the initial notes of the song, but fails to maintain the excitement throughout the catchy tune. Sunidhi Chauhan's voice is always a delight to hear, and with Katrina's dance moves grabbing everyone by the eye balls, this track would surely rock the charts. Having said all that – the song is just a regular Bollywood song that is released few years late in time. It feels outdated, but is still good to hear.
• Tu Hi Junoon is a typical montage song and seems to be hanging by a loose thread in the album. A much disengaged track, the lyrics are not very peppy and it is just the melodious voice of Mohit Chauhan that comes across as a relief. Much like Malang, the lyrics and vocals individually, are spectacular, but as a package, they miserably fail at creating any magic. It can be touted, as perhaps, the weakest song in the album – a plain, passable average song, which might work for you, once you watch the video.
• Dhoom Machale Dhoom comes at a point where the listener seems to have lost all hopes from the album, but is taken for a pleasant surprise. Sung by newbie Aditi Singh Sharma, this track is remixed version of the previous Dhoom machale tracks. Western instruments add a lot of fast based rap into this track, but it's the dhol that puts you off. The song provides nothing new with respect to the tune, has become the anthem for this franchise. The track is fine, does justice to the lyrics, is a listener's delight as compared to other tracks, and comes out as a classic Dhoom Machale Dhoom's revamped version.
• Bande Hain Hum Uske is an impactful chorus sung by kids—Shivam Mahadevan and Anish Sharma. It has some heavy duty chords and depicts the pain in the film. The best in the album, it has been well drafted, and is a perfect score for an optimistic prayer song. Bande hain hum uske is not the kind of song which you will listen to every day, but will certainly listen to, when you seek motivation. A pleasant take back from this album.
• Dhoom Tap is well-arranged and satisfactorily held up by the background Dhoom score. The track is an all feet talking instrumental song which blends well with the other tracks.
• Dhoom 3 Overture is really nice to hear, if you are into instrumentals. It is an instrumental version of Bande hain hum uske, and the track begins and slowly ascends onto you and nicely depicts a pleasant musical accordion just as soon as it picks up. This is another must hear from the album with all of its well-arranged shifts and patterns.
• Dhoom Machale Dhoom Arabic Version does not make much sense as it is more of a promotional song. The album could have ended without this track as far as melodic overtures are concerned. The song is, although, unique and has been sung by Naya, seems like a take on Tata Young's version in Dhoom.
Verdict: Largely, Dhoom:3 is once again a hardcore commercial album, as has been the case with it's preceding versions. This album doesn't have tracks that will straight away appeal to you, and much like Krrish 3, the music of Dhoom:3 tastes more like 2004, than 2014. The music surely does not spell doom! Go ahead, and check it out for yourself.  
Rating:
out of 5
Reviewed by Prateek Sur
* Poor
** Average
*** Good
**** Very good
***** Excellent