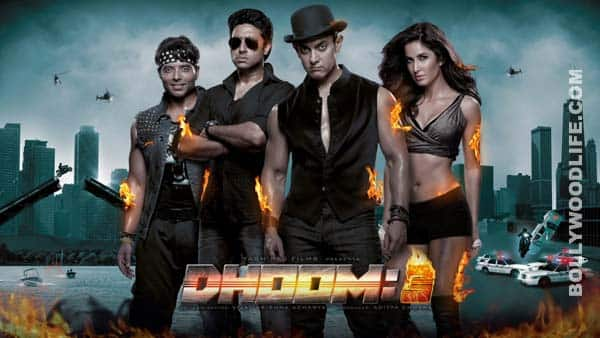 The makers of the film have unveiled the new motion poster of the action flick and this time we get to see the entire cast
The new motion poster of 2013's most awaited film Dhoom:3 is out and we aren't highly impressed. Unlike the first motion poster where we only got a glimpse of Aamir Khan's chiseled back, here the whole cast has been introduced. The promo has Abhishek Bachchan, Uday Chopra, Katrina Kaif and lastly Aamir Khan. As soon as the promo starts, you see Aamir Khan on his bike flying from one end of the bridge to another. Though Mr Khan isn't visible per say, it's easy to figure out. Then comes in Abhishek, whose look has been consistent throughout the Dhoom series and we're quite bored of it. Uday is back into his tapoori avatar which suits him well. Coming to Kat, the babe is trying hard to look sexy and up the oomph factor, but fails to sizzle. Also, in the close-up shot, Katrina's lips look oddly fuller and it's hard to miss, believe us. At the very end, you see Mr Perfectionist in cowboy-meets-macho man avatar. Looks like the makers wanted to save the best for the last!
Considering the anticipation for Dhoom:3, we feel let down yet again with the new motion poster. Now we just hope the movie doesn't turn out to be as thanda as the posters that we have been seeing!