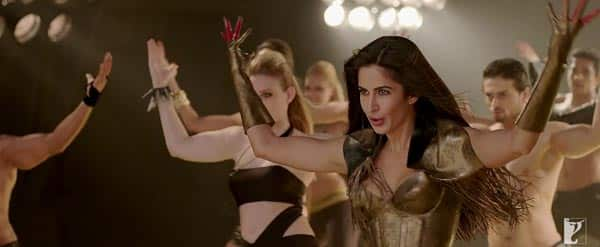 Kat's song from Dhoom:3 was the most awaited song, but Ms Kaif might not be very happy to know what fans of the Dhoom franchise have to say
Katrina Kaif worked really hard to get her look for Dhoom:3, and everybody eagerly waited for Kat to do the Dhoom machale dance, but it has disappointed fans and how. When the song released, we found it so thanda that we didn't know what to say. But, Kat, like many other actors cares more about what fans have to say as compared to the critics' say. So, this Dhoom:3 lady is gonna be terribly upset on reading what her fans have posted. Here's a quick read.
When a film is a sequel, there's an obvious comparison with its prequel (as much as one tries not to). Harsha, a fan says, "Tata Young was best … Aish was better.. Katrina was worst." Another fan, Pizza says, "she could have instead done a gangnam style and got away with making us laugh if not blow over her sexy part which is non existent in the song." Ihaaxia says, "Just disappointing and very boringgggggggggg. Only Katrina seems pleasing to my eyes but then, she's a BARBIE DOLL not an ACTRESS!!!"
That's not all! Kat might not have lived up to Aishwarya Rai Bachchan's sexy avatar in Dhoom:2, but people think she's done worse than Esha Deol (who was a part of the first film in the Dhoom franchise). Sasja says, "Very disppointing- Even Esha Deol was so much better than this.."
It's not just us, but all Dhoom fans and Kat fans too are drawing comparisons. Baburoy, a fan, says, "Aishwarya was much better. Hrithik version is was, is and will be the best forever in terms of dance. The songs of previous 2 films were far better too. Katrina is not up to the mark and song is pathetic to say the least." Gaurav says, "bekaaaaaaaaaaaaaar :/ she falls flat." Sona says, "I loved the Dhoom machale by Aish…Katrina's is ok, but not my taste. song and dance and Katrina's look is a BIG let down…:(."
Shanzy, a great fan of Katrina, says, "Ah, i can't even draw comparisons between kat and Aishwarya. I mean seriously this song is every bit disappointing as it could get. Aishwarys's song had some panache to it, a glamour or a vibe. this song was really awaited but leaves with a sigh. As far as Tata young's version is concerned, i guess she did it much better too. Not to mention the music which sounded more like something who did who does not know how to remix. **not to forget that i am a huge fan of KAT and this really made me hate her**"
A lot is being said about the six week of efforts that she put into the song. Vicky says, "This video has a 'too try hard' feel to it. Yes Kat looks pretty and all but all I can see is her plumped up lips and weird outfits. The song just sounds like a really bad remixed version of its predecessors..c'mon YRF fims..I expected a lot more from six weeks of prep work."
Amy says, "Yuckkkk….sheis trying WAY too hard it's kind of gross & cheap. What's up with her clothes? I agree she has a Kangana hangover from Krish 3. This is nothing new or innovative & I find it rather forced. Aishwarya was stunning, Tata was cool, even Esha Deol probably looked her best out of all movies she has done. The only this this wannabe has going is the red lipstick everything else is thanda! Yash Raj wake up! They could have even used Rani, she probably would have done much better in 6 weeks."
While most of the fans are disappointed, there are some who continue their loyalty to Katrina and claim that they're impressed with this thanda dance. To each his own, anyways. Arijit, a fan, says, "Mind blowing… Just oooo…" Tenzin says, "katrina kaif is the best…she looked stunning no matter what."
Anya, another fan feels that people shouldn't be comparing. Well, it's every bit normal to compare sequels, ain't it? Anyways, Anya says, "I thinks she did a great job with what she got. Sure she is not that good of an actor but she is hardworking and I believe that counts and it can be seen in the song and her career. I mean I am pretty sure majority of you wont be able to pull of the moves that she did even with 6 weeks of rigorous practice and you have to also consider the fact that she wasn't a trained dancer in the first place. I think ultimately the problem was with the song. The hip-hop/ modern dance choreography did not suit the bhangra beats of the song. I think she has proven time and time again that she is a great dancer from her earlier performances. And I hate when people compare each other. What Aishwariya got was not what Katrina got. Aishwariya is beautiful, graceful, trained dancer and an amazing actor and her song was so much better so was her chemistry with Hritik Roshan. Katrina is obviously as not good as her, but trash-talking her is so undignified of all of you. The movie hasn't been released yet for you to be able to compare the chemistry between Aamir Khan and Katrina Kaif. Just think about how much it annoy you when someone compares you to someone else be it in work or school or even in your family. Most of you all are such hypocrites! I personally think this website is negative biased to Katrina Kaif."
Kirti says, "katrina looks outstanding in her new song and she is ready to rock!!!!!! …. there is no comparison between kat and deepika.kat is always better than her……"
Well, the list of fans and their views can go on and on. On a concluding note, a fan, who shares his name with Kat's alleged ex, Ranbir, says, "Utter rubbish…did not expect this!!" Well, well. We wonder what the actual Ranbir Kapoor has to say about Kat's latest dance… Filhaal, we've our fingers crossed that Dhoom:3 doesn't disappoint us… Sigh!