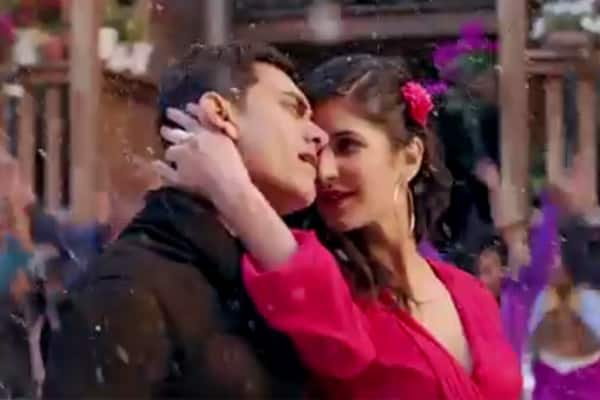 The shorty superstar is struggling to match up to Katrina Kaif's height in possibly every frame of this peppy romantic number. Take a look!
More than the beautiful backdrops this romantic number offers-from the lush gardens to the sparkling skyscrapers-your eyes are hooked at the tricks Aamir Khan is using to stand alongside our leggy beauty Katrina Kaif without looking like a little dwarf from Cinderella fairytale land.
Tu hi junoon from Dhoom:3 is a colourful and peppy number that presents Aamir and Kat in their colourful costumes. While singer Mohit Chauhan has not impressed us hugely with his voice-as he goes slightly off key in patches-it is the Khan dude's charm and Kat's sizzling screen presence that will keep you glued to the screen. And thank god the song saves you the trouble that comes from watching Abhishek Bachchan and Uday Chopra together. The duo's absence is really heartwarming.
Now you watch Kat and the Khan superstar shaking their starry legs to the tune of this hummable composition and tell us if you find Aamir using his high boots to create the desired effect!
[flv]http://st1.bollywoodlife.com/wp-content/uploads/2013/12/Tu-Hi-Junoon-Full-Song-DHOOM3.flv[/flv]