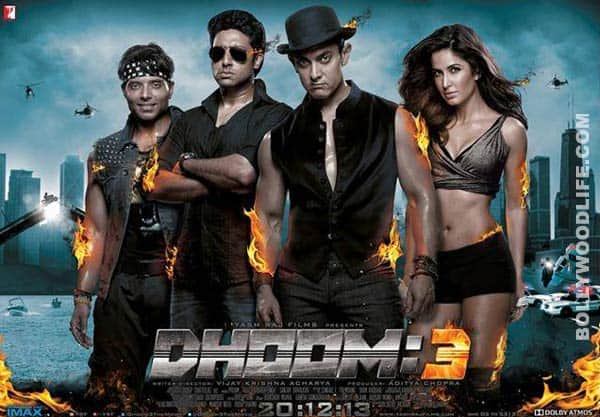 Cineswami analyses the success of the recently released action thriller
A wise man said that there are lies, damn lies and statistics. To counter that a wiser woman said numbers don't lie. Let us look at some Dhoom:3 numbers. The film is on a record-shattering spree. By collecting Rs 36.22 crore on its day of release, it broke both the Chennai Express opening day record and Krrish 3 single day collections record. By collecting Rs 107.61 crore, Dhoom:3 broke the Chennai Express opening weekend record and by collecting Rs 175 crore in its first week, Dhoom:3 broke the Krrish 3 opening week record. The Krrish 3 all time high domestic gross record of Rs 244.5 crore is under threat as is the 3 Idiots all time high worldwide record if the film keeps up its current pace.
Now, Dhoom:3 faced hostile reactions and negative word of mouth as soon as the first hapless few watched Vijay Krishna Acharya's pastiche of The Prestige and several other films. Aamir Khan's performance was reviled, his predilection for acting (one uses the term loosely) in Christopher Nolan knock-offs was noted, Abhishek Bachchan's sore need for a laxative commented upon, and Uday Chopra's turn hailed as the best in his distinguished career. Oh, and Katrina Kaif's legs.
We can pardon those who bought tickets in advance and contributed to the record Rs 36.22 crore opening weekend. They had no idea about the carnage in the name of cinema that awaited them. But how about those who saw it during the week and contributed to that humongous Rs 175 crore figure, despite the word of mouth? Are these people who are in search of mindless entertainment during the holiday period, or are these people just plain mindless?
Bollywood's relentless assault on the senses has evidently rendered its audience senseless. Perhaps this microcosm of cinema is a small reflection on the wider malaise affecting the disaffected society we live in today. It is indeed a point to ponder, but only by you, gentle reader, and not the audience for Dhoom:3, for, those unfortunates who happily ponied up their ill gotten swag to buy tickets no longer have the capacity to ponder.
Vijay Krishna Acharya must be a bemused man these days. On the one hand, he must be thrilled with the massive box office for his masterpiece. On the other, his peer group, the people whom he desperately wants to like his magnum opus, and who loved Tashan, will now shun him. It doesn't matter really. With that kind of money, Acharya can easily buy a new set of friends. So what if they are shallow – he's in Bollywood after all.