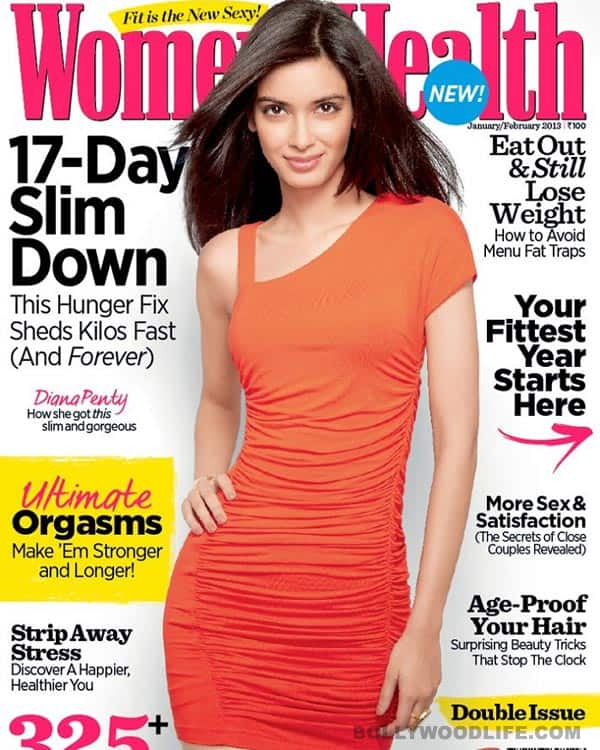 We spotted the four hot babes steaming it up on the covers of popular glossies. Tell us who among these four caught your attention with that undeniable 'it' factor…
On our regular babe-spotting spree we found four un-filmi faces pulling us towards them with their magnetism. Diana Penty, Lisa Haydon, Evelyn Sharma and Nidhi Subbaiah may not be our regular A-list Bollywood stars, but these four bombshells certainly have that special something that makes them the cover girls of the season. Known more for their scorching camera presence than their acting skill, these hotties have big plans to display their charisma on the big screen in time to come. But for now let's analyse what makes these beauties a sizzling cover presence.
Diana Penty's long limbs and lithe body draped in a tangy outfit made us go wah! the moment we spotted her on the cover of Women's Health. The Cocktail actor's straight hair, enchanting gaze and luscious lips make for an intoxicating mix. Diana, in our opinion, is here to give tough competition to the supremely 'gifted' Lisa Haydon who is known for making the mercury rise with her lava-hot presence. With her cover appearance on the latest edition of Marie Claire, the Aisha actor is all set to prove once again why she has always been our favorite cover queen. Her striped crop top and short black skirt make Lisa look both casual and chic at the same time. The pose this interminably long legged lady has adopted, with her brown hair tumbling down her face, covering it partially got Lisa a thumbs up from us!
And just when Lisa managed to whet our appetites for more beauty spotting, we turned our gaze to Everlyn Sharma, who is looking her curvaceous best on the cover of Stuff magazine. The babe with some serious hot 'stuff' will be seen this year alongside the dishy Ranbir Kapoor in Yeh Jawaani Hai Deewani and with the charming Ayushmann Khuraana in Nautanki Saala. The German import is going to be the head-turner of the year, so watch out! And then there is Nidhi Subbaiah who is on the cover of Jade magazine.The southern beauty certainly knows how to put her best foot…errr….profile forward with her cover appearances. Her dusky, even complexion, dark eyes and cute curls make Nidhi a desirable desi gal.
Now take a look at our cover sensations and tell us, who is your pick of the season?