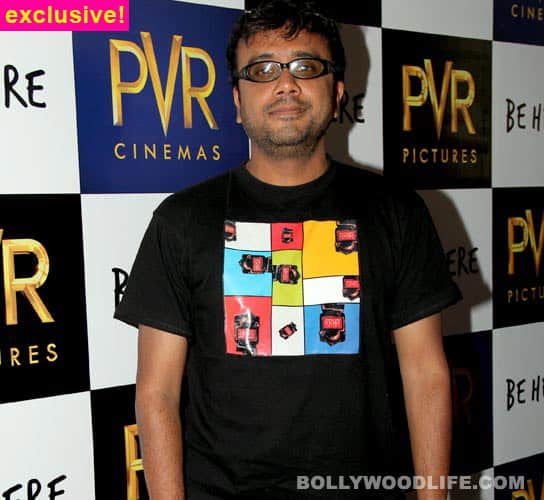 The director of path-breaking movies like Khosla Ka Ghosla, Oye Lucky Lucky Oye!, Love Sex Aur Dhoka and Shanghai opens up exclusively to BolywoodLife about his latest, Bombay Talkies, which has been co-directed by a club of accomplished directors comprising Anurag Kashyap, Zoya Akhtar and Karan Johar
Dibakar Banerjee has emerged on the Bollywood map as a distinct filmmaker who tells gripping stories with amazing fluidity. His creations are striking, often unnerving and almost always thought-provoking. We caught up with the 43-year-old director at his Mumbai office to know more about his new movie, Bombay Talkies…
Your last film Shanghai was terrifying and very dark. What emotions do you expect your segment (story) in Bombay Talkies to evoke?
My segment in the film will evoke satisfaction and pain. My story will be about tears and smiles. This segment will be about failure and success, both at the same time.
There are four unique stories in the film directed by four different directors – Karan Johar, Zoya Akhtar, you and Anurag Kashyap. You said at the trailer launch that if you had to name only your segment in the film, it would be titled Star. How do you justify the title?
My story is based on Satryjit Ray's popular short film Patol Babu Film Star. My film will make you think about people who believe that they haven't got a chance to prove themselves. But what do they do when they get that chance? Can they rise up to the challenge or collapse under the pressure? My film will talk about that dilemma.
You jumped at the opportunity of working on this project – what attracted you to this film?
If somebody tells you to make a film on whatever subject, whatever you want to portray, as long as the story is about cinema, and then you are told that you will be part of an exclusive club comprising highly accomplished directors like Karan Johar, Anurag Kashyap and Zoya Akhtar, how would you respond? I started my career in Bollywood by making films without stars. I was a complete outsider with no godfather; neither have I ever been a part of any club. The fact remains that I am making films in Bombay – five films in the last six years, to be precise, from 2006 – that has surprised me and a lot of other people as well. My films have not been super successful, or box office sensations – in fact, far from that. In this situation if somebody tells you that you can be part of films where KJo, Anurag and Zoya are on board already and you will be a part of the project too, it will certainly surprise you. I just jumped at it. It was a natural reaction.
Wasn't the inclusion of Karan Johar – whose brand of cinema is very different from yours, Zoya's and Anurag's – surprising?
No. In fact, it was my idea. I chose that concept. There were discussions and I welcomed the idea of inclusion of Karan in the film. Bombay Talkies reflects all kinds of Bollywood moods. In fact, I said right at the beginning that I and Anurag Kashyap are interchangeable. I even asked, 'Are you sure you want me?' I think Karan is known for his kind of films, but that's what we exactly wanted. We wanted Bombay Talkies to show various moods. I think the presence of four directors with their unique abilities to make films that are uniquely their own has made this project much more fun and interesting.
Since it's a collaborative effort, did the directors have to tame their competitive streak in order to make the story coherent? Did you have to design your story in a manner that made it in sync with the other three directors' tales?
No. Even if we have four stories, there's a common theme, a common thread running through. The story is about India and cinema. You can't take cinema out of India. A huge part of our consciousness is dominated by cinema and cricket! This film is about us, about Indians and our connection with cinema. I think 100 years from now, this film will be watched the way we look at Raja Harsishchandra, for instance.
As long as there is competition to make a better film and not to get better publicity, I am okay with it. In fact, I need that kind of competition, for it pushes me constantly. If the idea is to get more money than the other directors or to get a bigger car than the other person, that kind of competition in film business is unhealthy. Competition has to be about my work and how to improve my work. Me, Zoya and Anurag keep pushing each other, keep pulling each other's legs. At times there are healthy insults too. I got to know Karan just now. He is very straightforward and phenomenally intelligent person.
There are four stories in Bombay Talkies – which did you like most?
All of us liked Karan Johar's film the best – it was a big surprise for us, since Karan has done something radically different with his short film from what he's done so far. I think Anurag's film has for the very first time – and I have told him – many layers. Otherwise Anurag's films are upfront; this one has deep layers. Zoya's film has an appeal that will resonate with the pulse of the masses.
Bombay Talkies will celebrate 100 years of Indian cinema. How do you see the journey, the evolution of our films? What have we learnt from the history of our films? What mistakes, in your opinion, can we rectify to make our films much richer in terms of content and subject matter?
The mistakes our cinema has made reflects the mistakes India has made as a country. The biggest mistake we made is that we failed to forge a healthy culture of dissent. Without dissent, there's no art. Without disagreement there will be no originality. Without breaking away, there's no new beginning. The elitism of India, where only the English speaking elite control cinema – or at least, we can say that about Bollywood – where vernacular actors, vernacular directors and vernacular writers are denied the much deserving chance just because they don't have certain skills like a certain sense of dressing, a certain way of presenting their stories or a certain way of narrating and discussing their stories, is wrong. To become a filmmaker, you need to be able to make a film and not just speak and behave in a certain way.