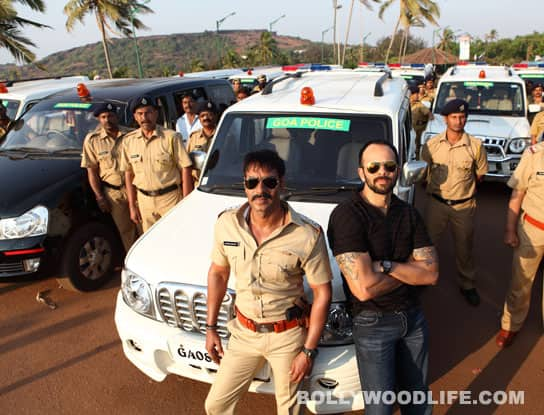 A security guard apparently misbehaved with kids at Matunga recently where Ajay Devgn and Kareena Kapoor were shooting for Singham 2
It must be the case of a hint of starry air getting rubbed off onto those who watch over the privacy of our B-town stars. Ajay Devgn and Kareena Kapoor who were shooting for Rohit Shetty's Singham 2 at a popular Irani Café in Matunga, Mumbai, saw a surge of crowd that had come to get a glimpse of the superstars. Slowly, the situation started getting out of control as the sea of fans got restless to watch Ajay and Bebo shoot an important sequence for the movie.
Our secret birdie informs us that all the necessary permissions for the shoot were granted and even police protection was sought to contain the swelling crowd. Soon the guards on the set started asking people to leave the premises. One security personnel lost his cool and even slapped a fan who was getting impatient to see the stars. Soon a local lady politician intervened on seeing that the guard was misbehaving with people. The lady then met the production-head and demanded that the guard in question must apologise for his rowdy behaviour. A formal complaint was not registered against the guard since he apologised for his uncalled for action!