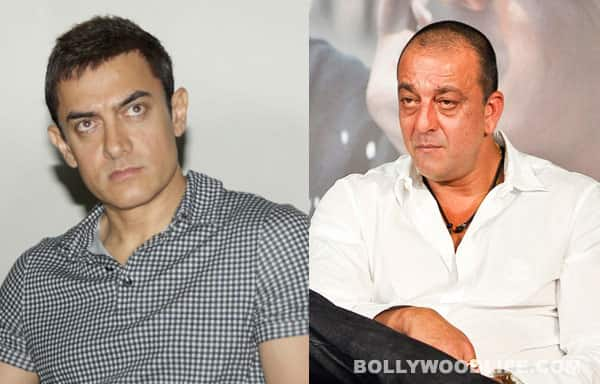 The latest reports suggest that Aamir's comment on Sanju not shooting for Rajkumar Hirani's P.K. has hurt the Munnabhai actor to no end
As if Sanjay Dutt's latest court verdict asking him to surrender on May 15 wasn't enough, Dutt is quite taken aback by Aamir Khan's comment regarding him and his movie commitments. It's learnt that during an interaction with the media recently, Aamir reportedly revealed that Rajkumar Hirani's P.K. had been completed quite some time ago and the makers were done with Sanju's portions.
This in turn implied that Sanju was sitting at home and not using the time allotted by the court for shooting. And when the Zanjeer star heard this, he was apparently extremely hurt. Sources close to Sanju believe that he has gone out of his way to allocate as many dates as possible to accommodate P.K., as he didn't want to hamper its release in any way.
And since Aamir was amongst the first ones to meet Dutt after the court's verdict sentencing him to five years imprisonment, we would like to believe that things must have been misinterpreted this time around. Because if you remember, the Dhoom:3 star had given priority to Hirani's film to ensure that Dutt's scenes were finished before he surrendered to the police. Well, we hope the two superstars resolve their differences ASAP!