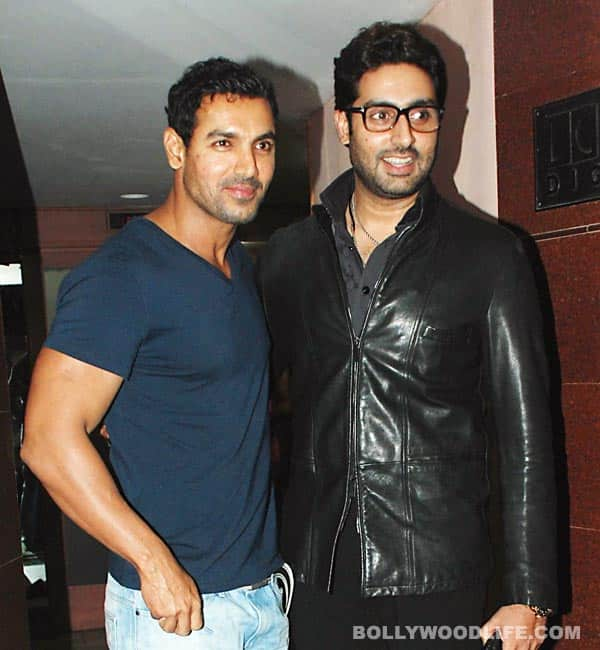 The 'hot' couple might be back on the big screen. But not in the way you might want them to…
Ever since John Abraham and Abhishek Bachchan played lovers in Dostana, we knew that this was THE couple to watch out for. And years after that Dharma Productions movie, we still wait for a formal announcement of the sequel, just to relive those mushy-with-a-twist moments.
But while our luck hasn't clicked as far as Dostana 2 is concerned, we hear that our beloved jodi will again come together on the big screen. But – and this is a crucial one – as brothers! Now we don't know whether to laugh or cry at that, 'coz it indicates that the two WILL NOT romance each other in the Hindi remake of Vettai that will be directed by Abbas-Mustan. Sigh!
If buzz is to be believed, after Shahid Kapoor walked out and R Madhavan-Ali Zafar's jodi couldn't make it to the final star cast of the Vettai remake, Abhishek-John agreed to be the bro-pair in this one. And maybe that's a blessing in disguise for the movie that hit roadblocks recently.
After all, the Dostana pair is bound to create a louder noise compared to the others who had been approached, right? Then again, we wonder if the audience would be a tad disappointed – like we were – to see the two dudes holding hands only to show off their sibling love.
So we ask you, readers: Would you enjoy seeing Abhishek Bachchan and John Abraham play brothers in the remake of Vettai?