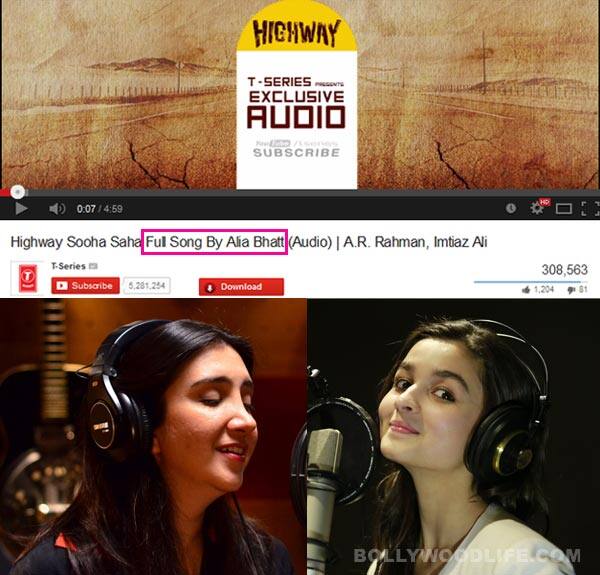 The Pakistani media is against T-Series for giving prominence only to Alia and not Zeb. Read on to find out the full story…
Alia Bhatt is credited for her singing debut in Highway with the song Sooha Saha composed by AR Rahman. However, people completely sidelined the fact that there was another singer in the song. Pakistani singer Zeb, who is pretty famous across the globe in the music circuits was slightly sidelined by T-Series and the full credits of the song went solely to Alia.
Grapevine has it that newsmakers from across the border in Pakistan are not happy with this. They are against T-Series for doing so and want Zeb to be equally credited for the song. They have also accused Indian music companies of trying to sideline Pakistani singers as they are growing in popularity and eating into the Indian singer's musical prospects. A leading daily from across the border reports, "The Indian music company scraped off her name from the official website as well. The song's popularity drove many viewers to YouTube, where the music credit has only been awarded to Alia Bhatt, director Imtiaz Ali and music director AR Rahman . Zeb's fans all across the world have showed resistance towards the Indian music company and have demanded her name to be included in the song's credits".
On getting to know of the fact Alia's dad Mahesh Bhatt reverted by saying, "As far as Zeb and my daughter's song is concerned, I believe that the credit should go to both of them. If the uploaded version of the song only has Alia's name in the credits, then it is utterly wrong. I will speak to the T-series authorities regarding this matter and soon there will be a positive conclusion. I have always worked for the stability of the relationship between India and Pakistan. I would never want that a Pakistani artiste or singer credit to be given to someone else."
Now when we checked we too found that Alia's name was prominently mentioned in the song's headline while Zeb's name was mentioned in the credits which came a lot below the same. We hope this conflict is resolved asap so that this does not give way to any disharmony between the two neighbouring states. Hai na peeps?